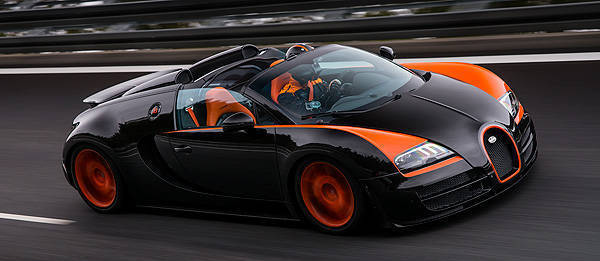 Bugatti may have lost the Veyron's record as the world's fastest production car due to a technicality, but it has something to make up for it: The Veyron 16.4 Grand Sport Vitesse has been certified by the German safety monitoring agency TÜV as the world's fastest open-top production sports car.
The record was achieved recently at the Volkswagen Group's Ehra-Lessien proving grounds when the 1,184hp car reached a maximum speed of 408.84kph in the presence of TÜV officials.
"When we introduced the Vitesse, we established the top speed for open-top driving to be 375kph," said Bugatti Automobiles president Wolfgang Schreiber. "Still, we could not let go of the idea of reaching the 400kph mark with this car as well. The fact that we have succeeded in reaching 408.84kph is a thrill for me, and it reaffirms once again that Bugatti is the leader when it comes to technology in the international automotive industry."
ADVERTISEMENT - CONTINUE READING BELOW ↓
The Veyron Grand Sport Vitesse went on sale in 2012, but to mark the record-breaking milestone, Bugatti will make available eight special World Record Car Editions in the same black-and-orange scheme at 1.99 million euros (P107.515 million).
The Veyron Grand Sport Vitesse World Record Car Edition will make its public debut at Auto Shanghai 2013 on April 21.
ADVERTISEMENT - CONTINUE READING BELOW ↓
Recommended Videos