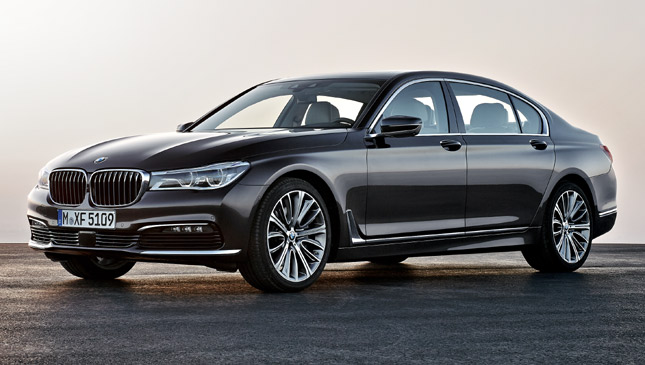 The 7-Series established BMW as a true luxury carmaker in the 1970s. Through the decades, the big 7 has grown bigger and more luxurious, and has raised the bar in technology. So where does BMW go from here?
After several teasers and spy photos, BMW has finally taken the wraps off its all-new 7-Series flagship sedan. Now looking sharper, it has more technology in it and less weight, thanks to its smarter design.
Its profile is pure BMW, with its trademark car-rearward styling that features a long hood and short deck, this time with a slightly more fastback roofline. Up front, we are greeted by a larger and more upright version of its kidney grille flanked by longer headlights with full LEDs or optional laser-light technology.
The front bumper now features more defined corners. The sides continue with the latest evolution of BMW's familiar character line dubbed "double swage line." At the bottom of the doors is a long chrome strip accent.
Like the front, the rear features more defined corners and edges. It's highlighted by L-shaped LED taillights.
Inside, chauffeurs are treated to a more luxurious driver-focused cockpit with aluminum and wood trim. Passengers are pampered with standard Dakota leather upholstery or optional Exclusive Nappa leather upholstery.
Continue reading below ↓
Recommended Videos
Then there's the Executive Lounge Seating option. It allows the front passenger seat to slide forward by an additional 90mm and to electrically extend a footrest integrated into its backrest.
The sedan's weight-loss secret lies under the skin. Christened "BMW EfficientLightweight," it features "Carbon Core," a technology from the i-model cars. The body structure is composed of industrially manufactured carbon fiber reinforced plastic, steel and aluminum. This results in a weight drop of up to 130kg.
Under the long contoured hood lies a range of new and updated powerplants. These include the 750i xDrive and 750Li xDrive's heavily updated 4.4-liter TwinPower Turbo V8, which produces 450hp and 650Nm. Next is the 740i's and 740Li's 3.0-liter TwinPower Turbo in-line-six, which produces 326hp and 450Nm.
In the diesel corner, we have the 730d's 3.0-liter TwinPower Turbo diesel with 265hp and 620Nm. This is available in short- and long-wheelbase models with either RWD or AWD xDrive.
In addition to the conventional powerplants, this sedan also has plug-in hybrid 740e, 740Le and 740Le xDrive models. These hybrids are powered by a 2.0-liter TwinPower Turbo in-line-four and an eDrive electric motor. The system's total output is 326hp. In all-electric mode, it can run at speeds up to 120kph for up to 40km. Based on the EU cycle, the 740e can get a combined fuel consumption figure of about 48km/L.
Being a flagship sedan model, the all-new 7-Series is packed with tech features like remote-control parking, BMW gesture control, Sky Lounge Panorama glass roof (which simulates a starry sky at night using LED modules), BMW ConnectedDrive (which features active cruise control with "Stop & Go" function), and air suspension with automatic self-leveling and Dynamic Damper Control.
Wow. Sounds like BMW has just redefined luxury.