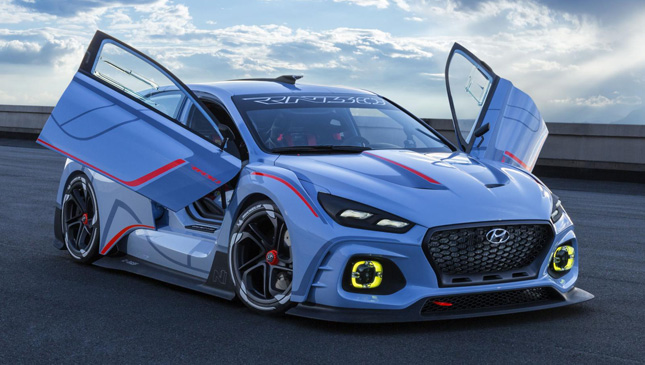 If there was any doubt about how seriously Hyundai is taking its new 'N' performance sub-brand, there isn't now. This is the utterly mad RN30 concept, a steroidal preview of an i30N production car already confirmed for next year. Judging by this, it could be very fiery indeed.
Albert Biermann, the guy Hyundai poached from BMW M to head-up its new N division, describes what to expect: "What we will sell next year is closer to the i30 than the RN30. It has a nice differentiation to the base i30, with its sportiness. We are Hyundai; we have no established high-performance customer base and if we go from zero to top level of the segment, the question is how many customers can follow us there? It's very robust, it's track-capable, but the first step cannot be too big."
ADVERTISEMENT - CONTINUE READING BELOW ↓
The Koreans have already dipped their toes into the hot-hatch market with the somewhat apologetic Kia Ceed GT, but this time it's aiming higher. In the concept, the engine is a 2.0-liter heavily turbocharged unit, strengthened with forged pistons, producing a hilarious 374hp and 451Nm. That's the same output as its i20-based 2017 WRC challenger, and the Mercedes-AMG A45.
Question is, how will that translate to production? Over to Biermann: "Power output will sufficient to be established in this hot-hatch area. We're not going for Nurburgring lap records! We will have two versions, a base version and a more performance-oriented version and the character will be different. One will focus on everyday driving but be racetrack-capable, the other is more track-going. You can expect more power from that. We start with a manual transmission, but we're developing a nice wet-clutch 8-speed DCT, and as soon as it's ready we'll put it in the N car."
ADVERTISEMENT - CONTINUE READING BELOW ↓
Recommended Videos
So no precise output, but something around the 230hp mark for the base model and 250hp for the higher-performance version would be enough to place it alongside the VW Golf GTI and Ford Focus ST. And what of the four-wheel drive system? "We are just starting, the performance level that we are offering does not require all-wheel drive," Biermann confirmed.
Fair enough, but it still begs the question why he chose to endow the concept with quite such burly performance and four driven wheels—is there a more hardcore model planned further down the line? "We have a testing prototype with 300hp and torque vectoring and an electronic differential, everything, so that car already exists but it's not the i30N you'll see. It's all advanced technology and we look into this and test it. But we do a lot of advanced projects in Namyang, but very often there's no decision for mass production."
ADVERTISEMENT - CONTINUE READING BELOW ↓
Other tech highlights on the RN30 include an "Electronic Variable Exhaust System" that delivers a "surge of aural pleasure by emitting a strong exhaust sound consistent with the visceral sensations produced by the rapid acceleration," no less. An electric diff measures out the torque at the rear axle and a weight reduction strategy shuns carbon-fiber in favour of what Hyundai calls "high-performance plastic materials".
Then we get to the slightly more out-there stuff. The butterfly doors, for example, are a bit 'ricey', but the BMW i8-style floating C-Pillars that join up to form a super-sized roof spoiler are things of beauty. Popped and vented wheel arches add 30mm extra width compared to the stock i30, while the suspension is slammed, dropping the roof 84mm closer to the road. White ceramic exhaust tips, painted tire walls—making the 19-inch rims stretch beyond their actual dimensions—and psychedelic graphics complete the makeover.
The interior is pure race car with bucket seats, full roll cage and a screen to control the car's various functions embedded into the squircle-shaped steering wheel. And for those that like to capture every heroic or crashy moment in 4K clarity, there are two gimbal cameras built inside both A-pillars, and another attached to the center fin on top of the roof. The TG TV team will be delighted.
ADVERTISEMENT - CONTINUE READING BELOW ↓
So, what do we think readers—when the i30N goes on sale toward the end of next year, has Hyundai got what it takes to topple the hot-hatch establishment?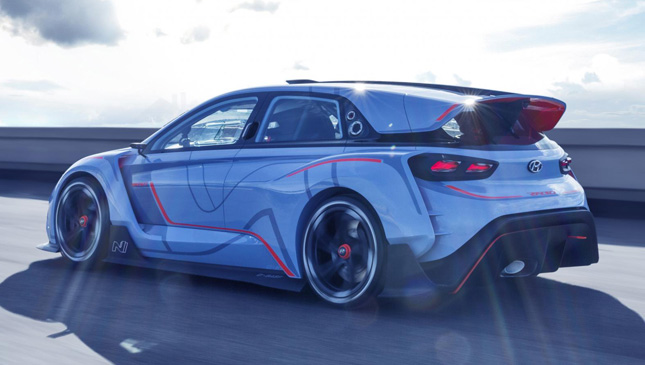 ADVERTISEMENT - CONTINUE READING BELOW ↓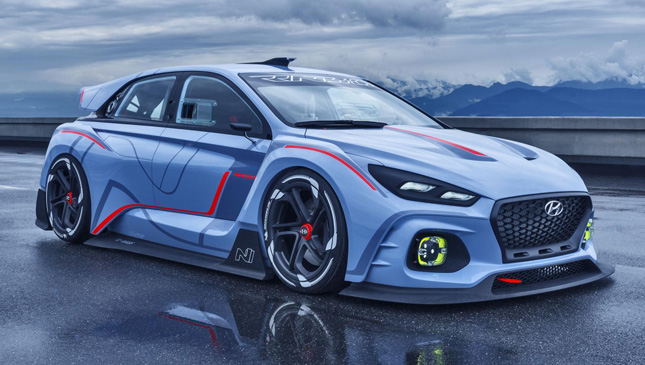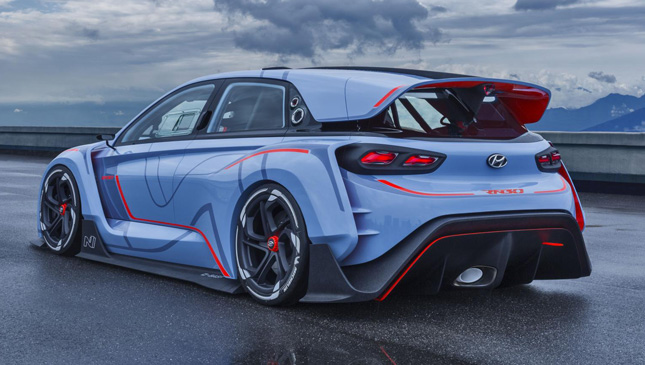 ADVERTISEMENT - CONTINUE READING BELOW ↓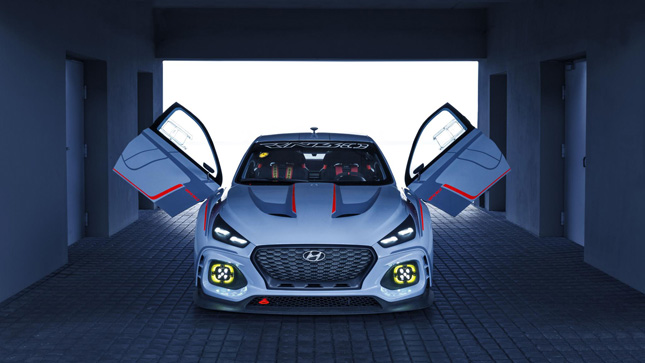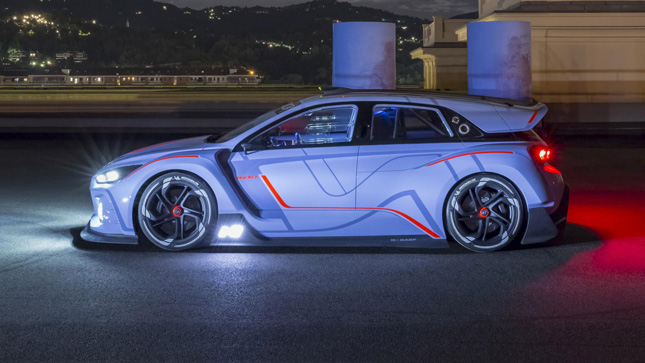 ADVERTISEMENT - CONTINUE READING BELOW ↓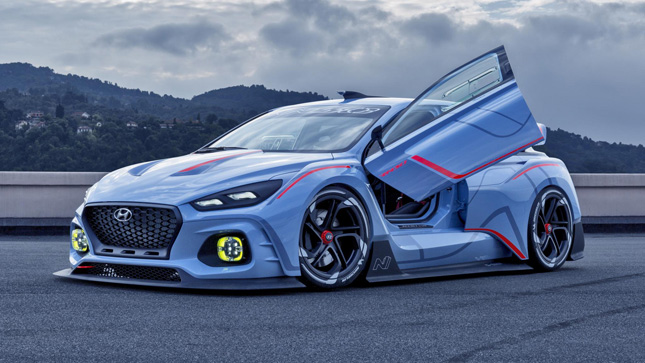 ADVERTISEMENT - CONTINUE READING BELOW ↓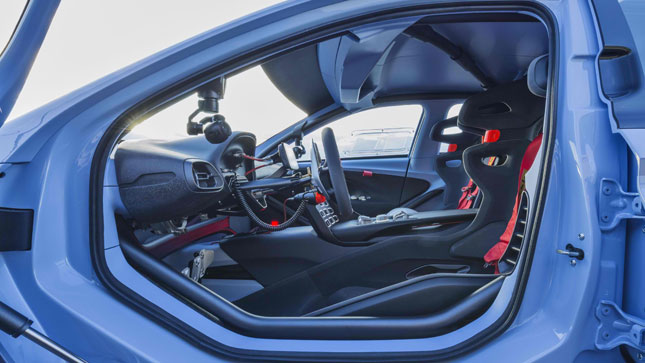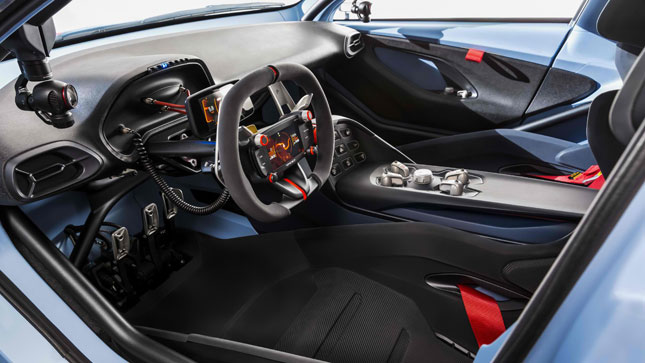 ADVERTISEMENT - CONTINUE READING BELOW ↓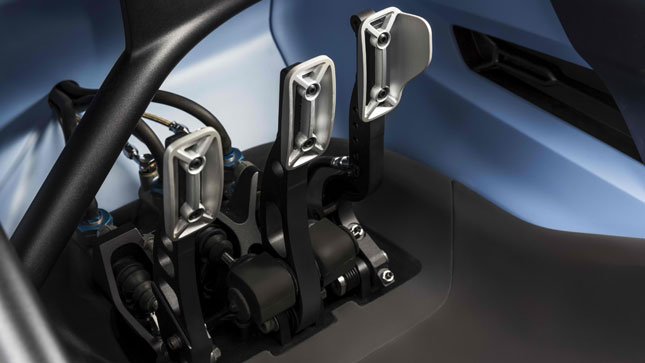 NOTE: This article first appeared on TopGear.com. Minor edits have been made.