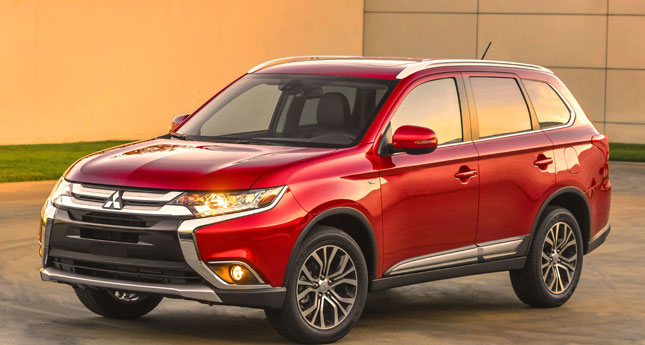 There once was a time when Mitsubishi wasn't exactly the most viable of automotive companies. Poor quality and even poorer sales were just some of the issues plaguing the Japanese auto firm. But just like any valiant samurai, Mitsubishi fought hard to stay alive. And now, it's showing great form and has even ushered in a new model. Meet the 2016 Mitsubishi Outlander.
The face-lifted Outlander was recently unveiled at this year's New York International Auto Show. A quick look at the midsize SUV shows a heavily restyled front end that features the brand's new "Dynamic Shield" design theme. Most noticeable are the sleek headlights that flank a two-piece wing-like front grille that has the three-diamond logo prominently displayed in the center. Another notable design cue is the new bumper side protection, seen on the revised front fascia. This styling feature takes its cue from the larger Pajero SUV. It likewise gives the Outlander a more macho look.
This new Mitsubishi also features improvements that are beyond skin-deep. Improved suspension tuning, better electric power-steering ratios, and upgraded NVH insulation are incorporated into the vehicle for a more refined feel. In other words, Mitsubishi wants to make the SUV a bit more upmarket. Apart from these, an upgraded CVT has been thrown into the mix for better driving performance and fuel economy.
Continue reading below ↓
Recommended Videos
But wait, there's more! That new front end that the 2016 Outlander now sports is actually just the beginning. According to a report by CarAdvice, the Outlander brings a new era for Mitsubishi in terms of its new corporate face. The Dynamic Shield look is set to be seen on other Mitsubishi models within the coming year. These models include the Mirage subcompact, the Lancer compact sedan, and the latter's compact SUV twin, the ASX.
This refresh is the first for the latest-gen Mirage, which was first seen in 2012. The ASX, for its part, is expected to receive its most radical design change since it made its debut roughly five years ago. As for the Lancer, the Japanese compact badly needs a freshening-up. This is in light of Mitsubishi's recent announcement that it will not be introducing any new generation for this nameplate any time soon, and remember that this model was first seen in 2007.
Expect to see the all-new 2016 Mitsubishi Outlander later this year. As for our neck of the woods, word has it that Mitsubishi Motors Philippines could bring in the refreshed SUV any time this year. And maybe, we might just see the refreshed ASX, Mirage and Lancer soon after. These are exciting times indeed.