What is it?
The most everyday of the everyday supercars. Because it's an Audi, because the cabin will contain 95th percentile people, because it's ergonomically sound, because it's reliable and well-built and comes from a company that builds approximately 1.8 million other reliable, well-built cars every year.
But also: screaming 8,700rpm V10. When all others are downsizing and turbocharging (to the detriment of noise and response), the R8 persists with a naturally aspirated 5.2-liter V10. It won't always be like this. We know a V6 hybrid is coming—in fact, we're almost surprised it's not here yet—but for the time being, the range begins and ends with V10.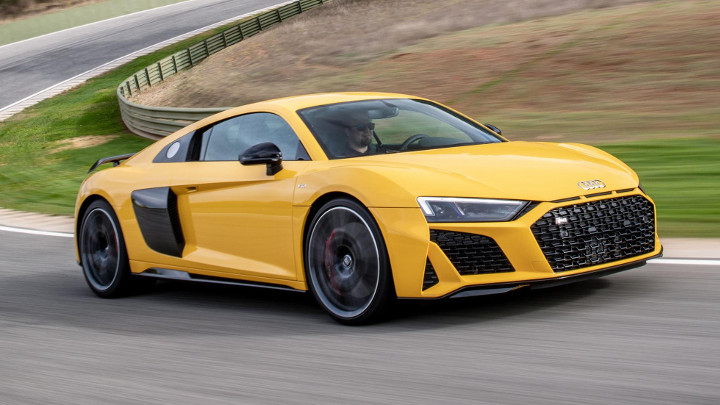 Continue reading below ↓
Recommended Videos
Now with more power. As you can tell by the subtly edgier nose, the R8 has been facelifted. This is its mid-life revamp, a gentle boost to help it stay competitive and survive another four years or so on sale. Still a two-model range, but with Plus now renamed Performance. That's received a boost from 604hp to 614hp, while the entry-level variant is up from 533hp to 562hp. A figure that puts it toe to toe with the McLaren 570S.
Outwardly, you're looking at new, sharper bumpers at both ends, larger exhaust pipes, and those three slots across the nose that hark back to the 1984 Sport Quattro Group B rally car. Elsewhere, the plan has been to fractionally sharpen the driving experience by stiffening the suspension, fitting in a new carbon anti-roll bar at the front (40% lighter than the old steel one), and recalibrating the steering—especially the optional variable-ratio Dynamic Steering.
First deliveries of the 4WD supercar will start early in 2019.
What is it like on the road?
It's the R8's duality that sets it apart from its rivals. Others—the 570S, the Mercedes-AMG GT, the Porsche 911 GT3—are crisper, edgier, and more exciting to drive. But none hits the high notes of everyday usability and track-day larks quite as completely as the Audi. In fact, only one car, the 911 Turbo, does a better job of being a daily, and that, for all its speed and potency, doesn't feel as special as the R8. Because make no mistake, a mid-mounted V10 is a very special thing.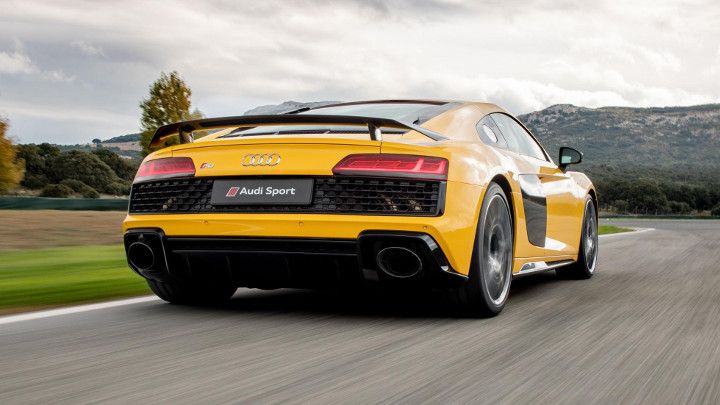 But also quite a docile one. Always noisy at start-up, yes, but this is a V10 of rare ability, so calm and tractable it is when just pottering, letting the engine warble to itself and the dual-clutch gearbox self-select the ratios. If you want to maximize this side of its character, have the optional adaptive suspension, which really does soften the ride around town, although it also brings in an odd porpoising over speedbumps. Personally, I enjoy the more natural feel of the standard suspension.
Audi has persevered with the variable-ratio Dynamic Steering system, in which a gear on the steering column allows the steering ratio to be changed, so you need less lock to go around corners. It used to be oddly artificial, but the latest version is much more convincing. But ultimately, all it's doing is saving a bit of armwork, and still robbing a bit of feel from what is otherwise a very good set-up. It's another box we'd leave unticked.
The center diff is electronically controlled, ensuring it's a rear-drive car for agility unless it needs a dose of front drive for security. Configure all these systems into their sportiest modes and the R8 gets super-reactive. It's not a car you slide extravagantly, but you feel the small tire-slip angles in vivid detail.
The main dynamic criticism of this second-generation R8 was that it lacked a bit of bite on turn-in. The suspension adjustments have been targeted at improving that, and have partially succeeded. The nose feels a little keener and grippier, both in terms of steering response just off center and the car reacting as the suspension compresses. Previously, there was this fractional delay and a sense that the car was understeering even before it was. Now it's slightly keener, if still not in the same league for adjustability and sharpness as the 570S.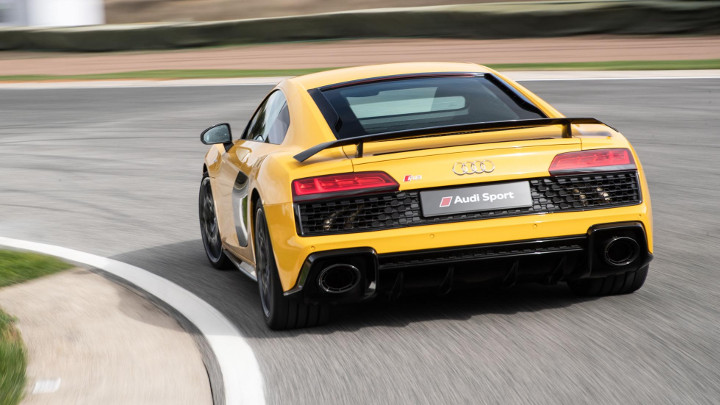 Blame the weight. Despite using a hybrid carbon-aluminum chassis, the two-seat R8 weighs 1,660kg unladen—about 200kg more than the McLaren. Weight saving on the Performance version strips 65kg out of that. The R8 is very nicely balanced through and out of corners. Its preference is to understeer very slightly, but you need to think carefully about coming off the throttle if you're running wide towards the exit—it can bite back.
But all the time, you're playing tunes on this awesome V10. It emits a glorious, baleful warble that grows in intensity as it homes in on the 8,700rpm cutout. Its high-rev reactions are tack-sharp and epically forceful, and sounds like the opera of the gods. It's a real point of differentiation. Do you notice the extra power? The additional titanium valvetrain components? Of course not. You're too occupied being blown away by what a great engine this is to be that analytical.
How long Audi will be able to carry on justifying its presence, especially when the V6 hybrid arrives, is anyone's guess. Tough for a firm to fully, honestly claim to be behind the zero-emissions revolution when it's also selling a 300g/km supercar. Room for both, we say.
The brakes are unchanged—steel wave rotors on the standard R8, carbon ceramics for the Performance—but Audi is claiming a reduction in braking distance (by five meters from 200kph) due to a new compound for the Michelin Pilot Sport 4S tires.
Layout, finish, and space
Perhaps the best supercar cabin of all. It's spacious (check out the broad shelf behind the seats, the headroom and sense of space engendered by the far-off windscreen) and yet intimate. It draws you in, focuses your attention on the steering and fully digital dash to start with, then teases your view outward to such beautifully wrought details as the heating controls.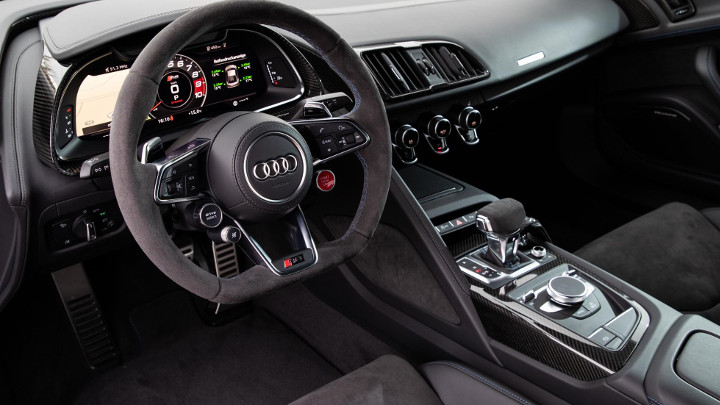 It's the material execution and quality that really hits home, even above and beyond a Porsche 911. The tactility is masterfully done, the organization of the controls is superb, the operation of the controls is just so. It's a car you can spend a long time in, simply pressing buttons and moving switches. Driving position? You, like me, may want a bit of extra reach on the steering wheel, and we'd suggest avoiding the sportiest seats, which are too upright and thinly padded for comfort.
It's not as easy to see out of as a McLaren Sports Series or a 911, and it feels wide, but this is a design-led cabin that works on pretty much every level. Just be warned there's not much load space under the nose—the 112-liter area is limited by the presence of those front driveshafts. Make up for it by exploiting that 226-liter shelf.
Changes for the facelifted version are very modest: New silver and brown color schemes inside, and the reversing camera is now standard. Audi's virtual display is still the benchmark digital dash for legibility and organization of information.
Final thoughts
Audi's persistence in sticking with a large-capacity, naturally aspirated V10 is increasingly giving it a real point of differentiation when almost all its rivals are motivated by twin-turbo V8s (or a flat-six, obvs). The engine has only been very lightly tweaked for the facelift, the extra handful of horsepower barely noticeable, but this is still a stand-out, hands-down stunning engine.
And it's the centerpiece of what remains a very complete supercar. The visual changes have given the front end a sharpness that's been copied by the mechanical alterations underneath. It's still not as direct and precise as a McLaren Sports Series or a Porsche GT3, but there's added bite on turn-in and notably improved steering feel.
It's easy to overlook the R8 among newer, fresher, more dynamic rivals with more exotic badges, but rather than feeling outdated, its engine and huge breadth of ability make it feel increasingly special. A supercar that fully deserves its spot at the top table.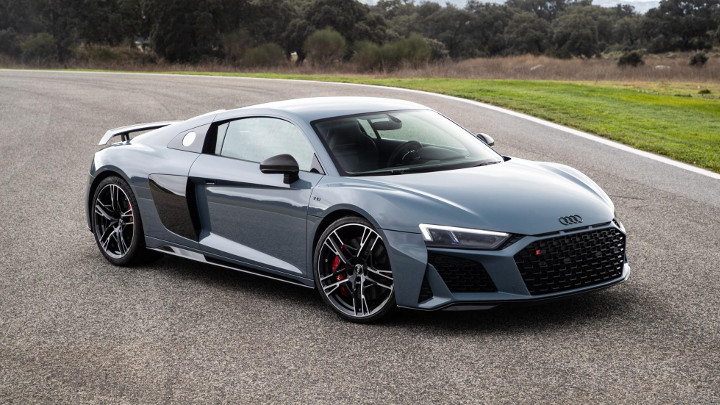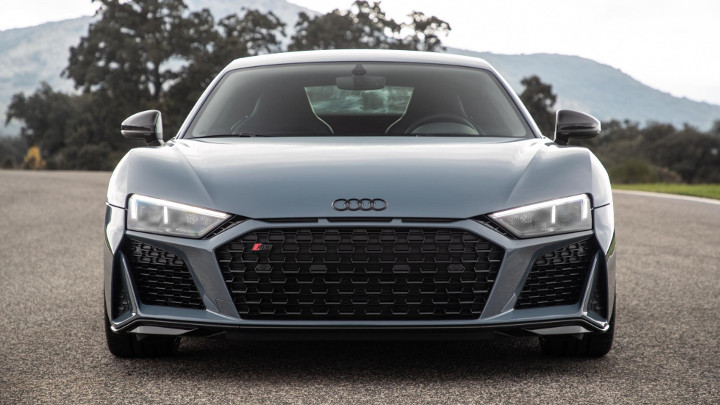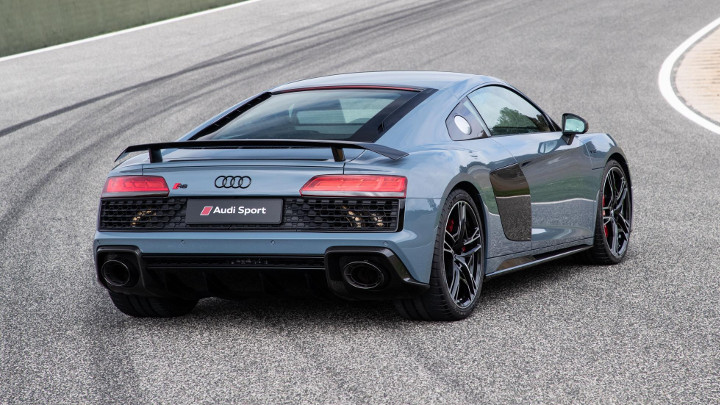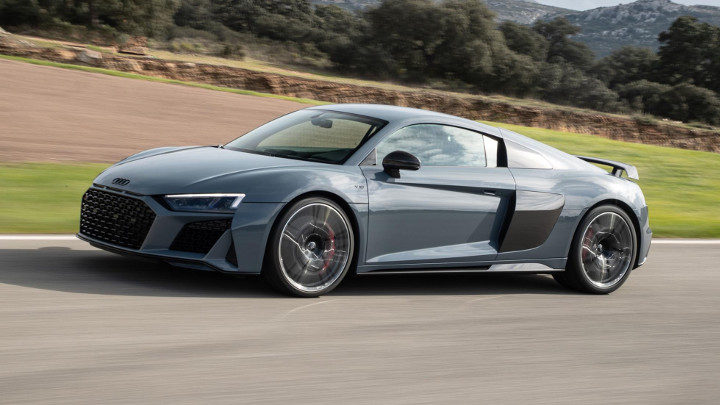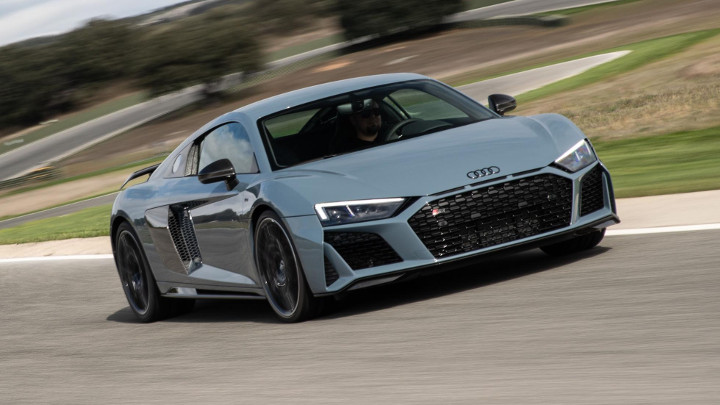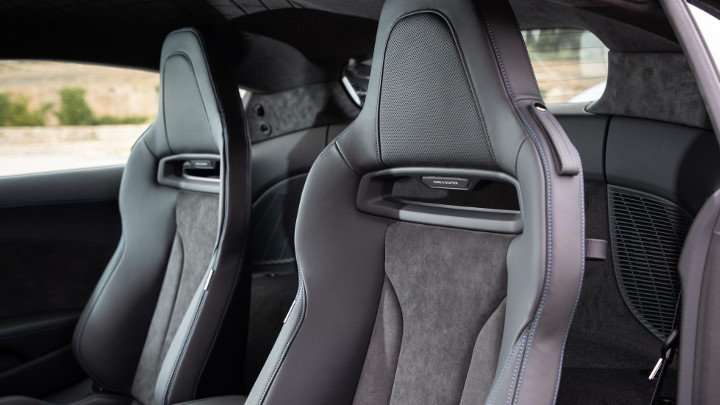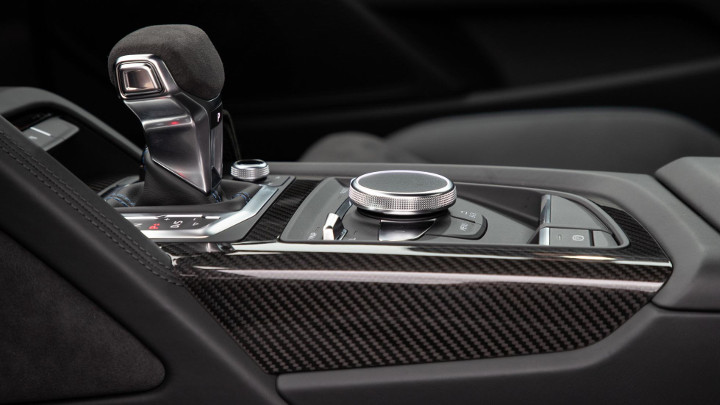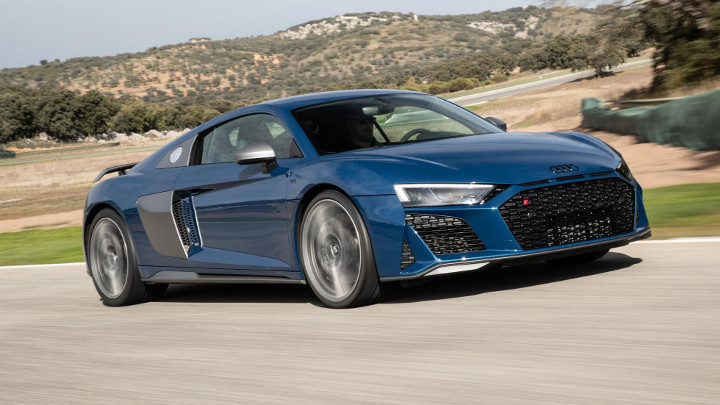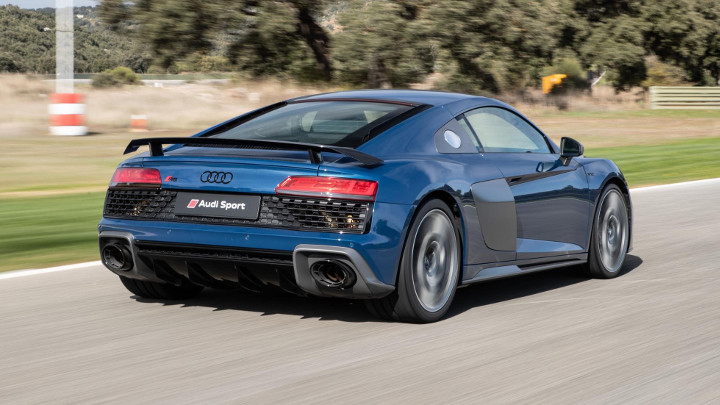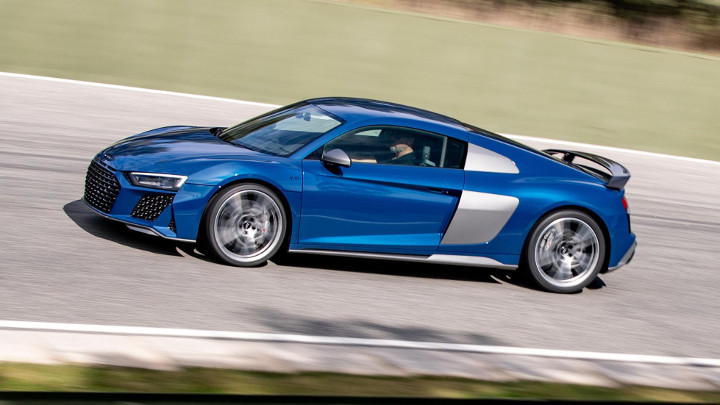 NOTE: This article first appeared on TopGear.com. Minor edits have been made.