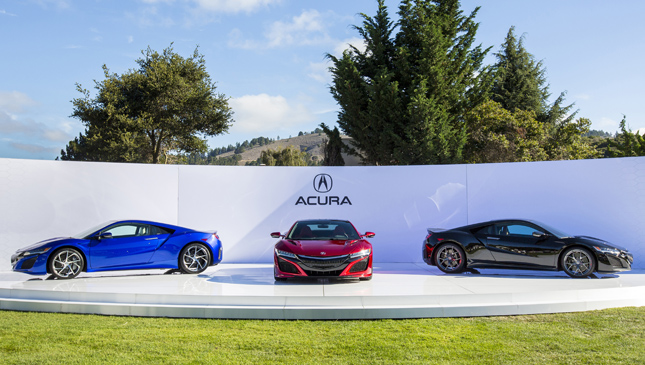 Honda and its luxury brand Acura don't exactly have the cars that you'd associate with the word "bespoke." The usual types of customized Hondas you'd often see are EK- or FD-series Civics dressed up à la Fast & Furious.
So it comes as a pleasant surprise to learn that if you're in the market for the eagerly awaited all-new NSX, you can actually get one to your liking. That's because, according to Acura, the latest NSX supercar will be built to order. The company even showed off three beautiful examples at this year's The Quail, one of the motoring world's most prestigious automotive gatherings.
The three Acura supercars are a peek into what lucky owners could do with their NSX. One can choose to spec his NSX with carbon-fiber bits for the front spoiler, the side sills and the rear diffuser. More carbon trim can be had for the roof and even the engine covers. These can be offset by silver or black for the brake calipers. Of course, any owner knows that the wheels are what help his ride stand out. Acura knows this, too, which is why it is offering a set of either Interwoven or Y-spoke wheels, to give the car a look that befits its owner's personal taste.
Continue reading below ↓
Recommended Videos
More carbon-fiber trim can be ordered for the interior. The instrument cluster visor, along with the steering wheel garnish, can be spec'd with the stuff. Meanwhile, the seats are available in leather and Alcantara, and come with a host of power adjustments for the best driving position. Plus, you can even get your NSX with the top-spec ELS audio system with nine speakers and a technology package, along with all the navigation, connectivity and high-fidelity options you can think of. But of course, wouldn't you rather listen to the sound of the sport hybrid motor as it powers its way down the road?
At The Quail, spectators got to see three exciting colors of the new NSX: Valencia Red Pearl, Berlina Black and Nouvelle Blue Pearl. While these are really cool colors, maybe there's a way a client can order a hue he wants, this being a made-to-order program after all. We'll know once this much-awaited supercar finally goes on sale.