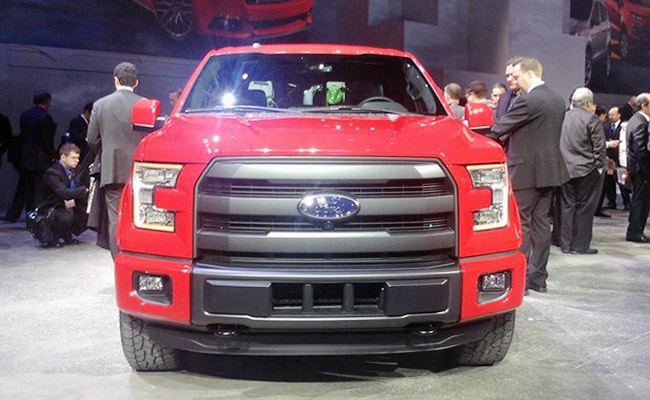 It's big--huge, in fact. So huge that, at the back of my mind, I wondered why Ford would build something so massive. I kept an open mind and listened to the product briefing, and quickly understood why the 2015 Ford F-150 is what it is. This has been the best-selling pickup truck for the past 37 years (and actually the best-selling vehicle of any kind the last 32 years) in America. It is a product that proves big business listens to what its clients want and knows how to strike the proper balance between customer demands and the ever-increasing concern for environment sustainability.
F-150 owners use their truck--as in really use it. They use it for hauling materials and towing equipment for work during the week, while also using it for leisure come weekend. And we all know that when time is of the essence, the ability to haul everything in one go is the best way to be efficient, be it for work or for play. No one wants to make that extra trip.
But being big also means being heavy, and therefore fuel-hungry--not something any new vehicle owner wants. To address the issue, Ford has employed modern metallurgical techniques, including the use of lightweight military-grade aluminum alloy--once a material reserved for exotic cars--in the construction of its cab and cargo bed. High-tensile steel and an improved boxed ladder frame increase structural rigidity while reducing overall weight as well. Overall, 700 pounds in weight savings has been achieved. Lower weight is good; ask any racer. It translates to more power left for hauling ass and asset, or less fuel consumed.
Continue reading below ↓
Recommended Videos
Engine choices include 2.7-liter and 3.5-liter EcoBoost turbocharged V6 units, a 3.5-liter V6 and a 5.0-liter V8 with variable valve timing. The turbo engines sound fun.
The styling, while seemingly boxy, is actually aerodynamic, much like how the supersonic wings of the Lockheed F-104 looked out of place. The plus side? The design retains and improves upon the strong character and presence of previous F-150 models. Another upside is the immense amount of space available inside the cabin. Up front, the available room is bigger than before; at the rear, the seats fold up to form a space large enough to carry a myriad of stuff. Stuff wider and taller than the door openings, as a matter of fact. Good thing the rear doors are a positive improvement, too, because they're also bigger than ever.
Small improvements here and there abound throughout the truck. Remote-folding tailgate, convenience step boards, 360-degree visibility, LED signal lights, blind spot information system, and a whole slew of other thoughtful touches (much more than the limited time available to intimately get to know the new F-150).
One thing is crystal-clear to me: Ford has done it again, and 37 years will soon become 38 (and counting) that the F-150 is the best-selling pickup in the cutthroat US market.
Photos by Ferman Lao