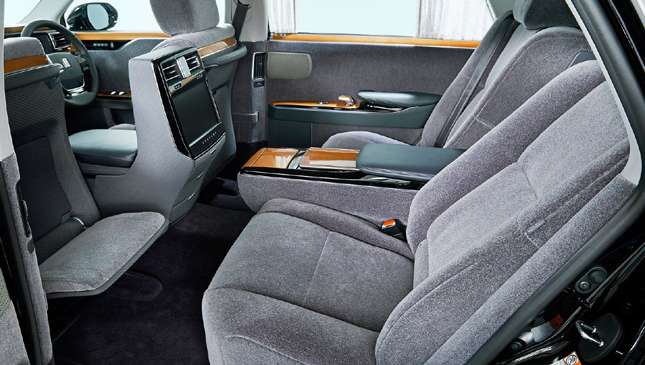 Soft 100% wool upholstery, high-end leathers, and a 20-speaker audio system. Are we describing a car, or the Japanese emperor's personal living space?
It's a car, of course. And a very nice one at that, too. The snazzy cabin setup you're looking at belongs to the all-new Toyota Century, to be revealed at the 2017 Tokyo Motor Show. For those not familiar with the nameplate, the Century has been one of the carmaker's most opulent luxury cars since the late '60s, and the third-generation vehicle lives up to its heritage.
Everything from the rear passenger seat area to the door trim is upholstered with the aforementioned wool in a heather pattern to emphasize space, Toyota says. Not that it needed more emphasis considering the Century's been endowed with a raised roof, increased vehicle length and an expanded wheelbase. But hey, more room.
Continue reading below ↓
Recommended Videos
The seats are really something as well. They're equipped with a massage function and adjustable power leg rests. Combine these swanky seats with the vehicle's specially tuned suspension and newly developed tires which put emphasis on ride comfort and minimizing road noise, and you'll be catching Zs in traffic as you would sleeping in a five-star hotel. The engine mount has been optimized to do the same, too.
If you're not too keen on falling asleep in traffic, you could opt to get some paperwork done via a writing table and reading light. No? Then simply hook up your smartphone to the car's multi-operational infotainment system which can be controlled from any of the cabin's passenger seats.
Lastly, not that heads of Japan's zaibatsus will notice, but Toyota assures that the Century's new 5.0-liter V8 hybrid system provides impressive fuel consumption figures together with high output.
It's no Rolls-Royce, but it definitely looks the part. Besides, the Century looks about as classy as a Japanese vehicle could these days. What's not to love? Again, you can see more of this hotel on wheels at this year's Tokyo Motor Show.