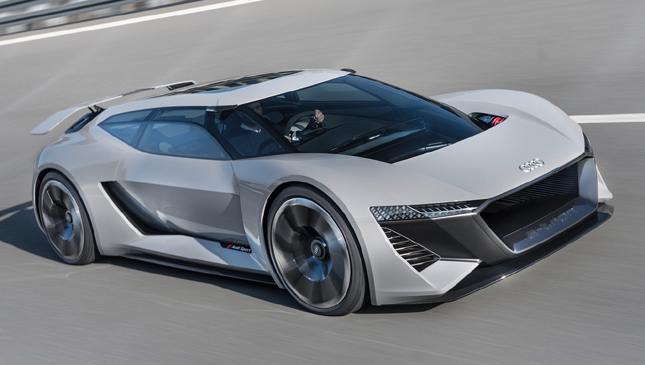 What's one thing that most of today's concept cars have in common? Two words: "Self-driving."
It seems like carmakers have fallen absolutely head over heels in love with the idea of the self-driving vehicle. But as nice as an efficient, convenient, and accident-free car of the future sounds, we just can't shake the feeling it'll all feel rather dull.
Thankfully, Audi doesn't seem to have lost sight of what makes driving, well, driving. The company has just revealed the PB18 e-tron at the 2018 Pebble Beach Automotive Week, calling the vehicle "a radical driving machine for the racetrack and road."
"Come on, there's a catch right?" you're probably thinking. After all, the PB18 e-tron does look like it can drive itself, with a design that's as minimal as it is futuristic and a cockpit that's more akin to a space craft than anything else. "This thing can drive itself to some extent, right?"
Nope. Everything--steering, braking, acceleration--is all on the driver.
In fact, the PB18's working title around Audi during development was "level zero"--a sort of knock on the entire idea of self-driving cars, which are classified depending on their level of autonomy. Ladies and gentlemen, this is about as pure as concept cars come.
Continue reading below ↓
Recommended Videos
How pure? Audi says the PB18 is devoid of complex systems and comfort features to make the vehicle as light as possible. This, and a body made from aluminum, carbon and "multi-material composites" makes for a car that weighs a paltry 1,550kg.
Then there's the seating configuration: The driver's seat can slide laterally, allowing the PB18 to switch between a driver-only setup at the very middle.
"We want to offer the driver an experience that is otherwise available only in a racing car like the Audi R18. That's why we developed the interior around the ideal driver's position in the center," says Gael Buzyn, head of the Audi Design Loft in Malibu. "Nevertheless, our aim was to also give the PB18 e-tron a high degree of everyday usability, not just for the driver, but also for a potential passenger."
Finally, the numbers: Three electric motors, 661hp, 830Nm of torque, and 0-100kph in less than two seconds. The PB18 does sound like a radical drive indeed. More importantly, its range is pegged at over 500km, meaning you should have more than enough juice for a fun day at the track and a quick stop by the grocery on the way home.
So, what were you saying about a driverless future again?