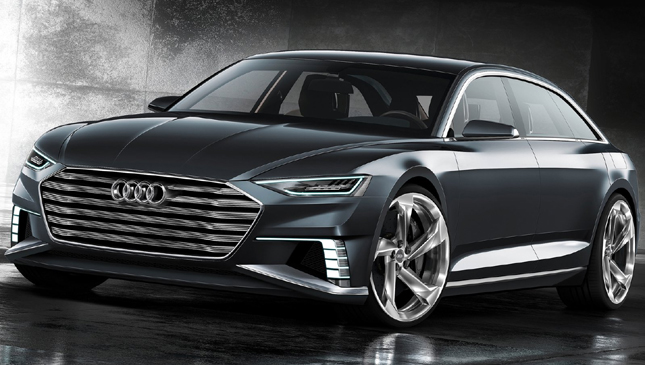 Audi is showing off a new design language at this year's Geneva International Motor Show. The Prologue Avant show car is what the German brand believes is the future of automotive design, particularly for the Avant (or station wagon).
Those of you who are old enough may recall the sleek Audi 5000 Estate of the '80s. That stylish car showed the world that a station wagon need not be boring, boxy and stodgy--just like the famous National Lampoon's Vacation woody wagon used by Chevy Chase and his brood. This Audi was aerodynamic, to say the least. Since then, the brand has been churning out estate cars with just a bit more oomph than usual (case in point: the fire-breathing RS4 Avant).
The Prologue Avant traces its roots to the Audi Prologue concept car that was showcased at the Los Angeles Motor Show in November. It has a newly designed stretched roof and bold exterior look, while still retaining some of the signature Audi styling cues. Measuring 5.11m long and 1.97m wide, it is positioned at the large end of the luxury car segment.
Beyond the new design theme, Audi has packed the Prologue Avant with technologies that bring the driver and the passengers into the future of motoring. One such piece of tech is the detachable OLED display screens at the rear. These screens are a spin-off of the new Audi tablet, which was first seen in the recently launched Q7 SUV. These allow the driver and three other passengers to stay digitally connected.
Continue reading below ↓
Recommended Videos
Don't get thrown off by the term "show car," though, as this Audi has a motor under the hood. And this isn't just any motor--it's the same one used in the advanced Q7 e-Tron Quattro. In this application, the 3.0-liter TDI engine, combined with an electric motor, puts out 435hp and allows the Prologue Avant to sprint from zero to 100kph in just 5.1 seconds.
Yet, such performance hasn't stopped the Prologue Avant from being a green car: It can travel 54km in full electric mode. Plus, its adaptive air suspension and advanced all-wheel-drive steering system make for a truly balanced performer that's comfortable, sporty and stable.