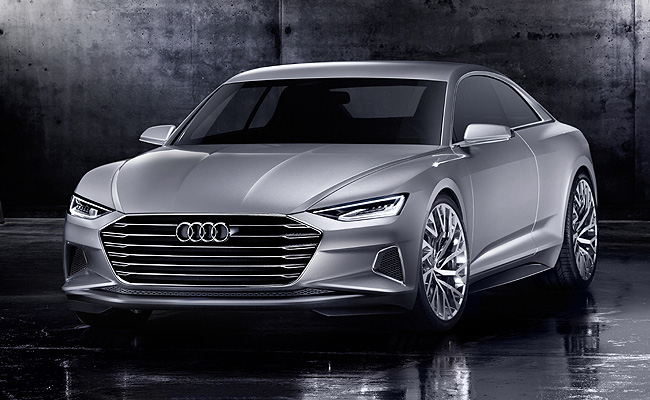 Audi has revealed at the 2014 Los Angeles Auto Show the future of its design direction with the unveiling of its Prologue concept car.
"When he moved to Audi, Marc Lichte launched a design offensive," said Audi board member for development Ulrich Hackenberg, who brought Lichte, the German carmaker's current design chief, into the company. "His clear philosophy and precise understanding of the Audi DNA let him develop a design strategy that is opening up entirely new perspectives for us. It is progressive and highly emotional; it expresses the technological competence and quality claim of the brand perfectly. The Prologue is its first proponent. It is a signature car for Audi."
The dominant feature of the Prologue concept is its wider grille that's also positioned lower than on current production models. According to Audi, the emphasis on the wide grille supposedly "expresses an image of powerful dynamics." And of course, Audi's four-ring logo is displayed prominently on the grille.
As for the wide, wedge-shaped headlights, their pupils are formed by a projection lens with a laser light source that generates a matrix that illuminates the entire street "in high resolution." Also found in the headlight housing are five plastic lenses that further extend the high-beam light by using a glass-fiber bundle that's mounted to a lightweight structure.
Other new designs to the front fascia are the air intakes with diamond-patterned screens under the headlights, and a dynamically contoured blade that's clearly separated from the bumper by a gap. Mounted to it are two spoilers in glossy black, which give the show car an even stronger and wider stance on the road.
From the side, the proportions put equal emphasis on the front and rear wheels for good reason: as a clear reference to Audi's Quattro DNA. Also, the Prologue features flared shoulders above the front and rear wheels, which form two gentle arcs above the wheels and break up the lower shoulder line between the wheels. The fenders, the doors and the rear side panels also show curved muscular surfaces, while the lower door area has a low concave shape that runs upward to the rear--a design motif that supposedly hints at air inlets.
So, what do you think of Audi's new design language?