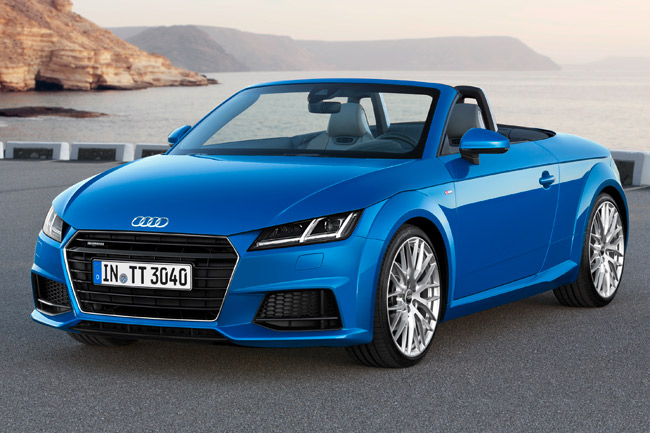 The Audi TT has always been a respectable German sports car, but it never quite got the admiration that its peers (Mercedes SLK, BMW Z3/Z4, Porsche Boxster) did. In our country, a shady distributor during Audi's first foray into our market didn't help the TT's popularity. But now the German carmaker is in more competent hands with PGA Cars, and this means Audis now have a better chance to succeed locally.
A pair of cars that should raise Audi's local profile are the new TT Roadster and TTS Roadster unveiled at the recent Paris Motor Show. This TT is the third generation of the sports car originally designed by the legendary Peter Schreyer. One can still see echoes of the first TT in this latest model's squat styling, but the large R8-inspired grille and sharp angles reflect Audi's modern thrust.
A feature that is being highlighted is the virtual cockpit, where a digital instrument cluster provides all the information that the driver needs. We're not sure if this will be a boon or a distraction, but it looks pretty darn cool. The virtual cockpit features different views that can be changed by the driver: a classic view, an infotainment mode, and a sporty setting.
Continue reading below ↓
Recommended Videos
Similar to other Audi cabriolets, the TT Roadster features an electrically actuated fabric top that opens and closes in 10 seconds, even up to speeds of 50kph. The advantage of this soft top is that it does not encroach into the 280L luggage compartment when folded.
To make up for the rigidity lost by chopping off the fixed roof, the body of the TT has been modified in some areas. The aluminum A-pillars conceal a secondary pillar in their interior. Internal steel ribbing strengthens the aluminum sills. Finally, V-shaped struts reinforce the zones under the engine compartment and the storage area.
And as an ultimate precaution, rollover bars can be found inside a solid wall separating the cabin from the luggage compartment.
To provide propulsion, two four-cylinder engines are being offered with the TT Roadster: a 184hp turbodiesel and a 230hp turbocharged gasoline mill. The TTS Roadster gets a more powerful 310hp version of the latter engine.
There's no word yet on when the new TT Roadster and TTS Roadster will go on sale here. We certainly look forward to seeing them on Philippines roads.