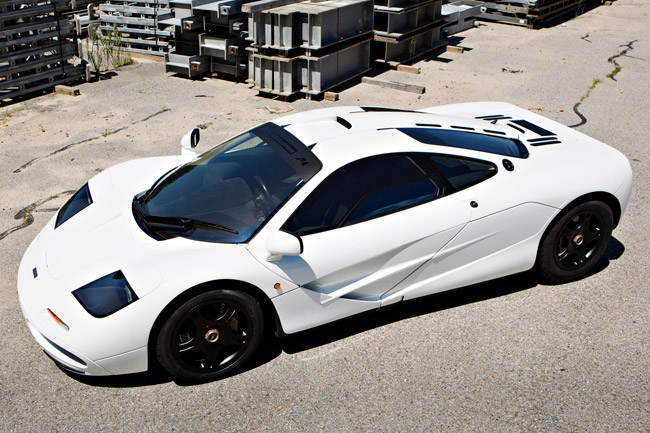 So much has been written about the legendary McLaren F1 supercar, yet we still can't get enough info about this mythical machine. It is well over 20 years old, but its BMW–designed V12 and its light, nimble chassis can still embarrass most supercars on the road today.
Perhaps one reason why we devour any bit of info on the F1 is that it is the ultimate aspirational automobile. Just to see one on the road is a dream; to drive one is nirvana; and to own one is unimaginable. Because not only are F1s immensely expensive, they are also very rare. Only a little over a hundred were produced, and they are now owned by collectors who are normally unwilling to sell.
So it's a special occasion when an F1 is put on sale. And that's exactly what will happen at the Pebble Beach Auctions this year, to be held on August 16-17 in California. The official auction house will be Gooding & Company, a company known for pulling off record-setting auctions.
McLaren F1 chassis number 031 will be offered for bidding. It is finished in a color called Marlboro White, and Gooding & Company states it is the only F1 in existence with this hue (there are other white F1s out there, but these are repaint jobs). What makes this example extra special is its ultra-low mileage: only 1,617km traveled since new!
Continue reading below ↓
Recommended Videos
F1 number 031 includes the original owner's manual, service and warranty book, spare key, factory luggage, gold-plated titanium tool kit, and Facom F1 rolling toolbox.
Its history deserves mention as well. Japanese collector Shin Okamoto purchased this F1 new in 1995. It rolled off the factory floor in the aforementioned Marlboro White color, with black leather and Alcantara on the inside, finished with red stitching. The name of the paint comes from McLaren's famous ties to its longtime tobacco sponsor.
Okamoto drove his F1 sparingly, because the poor fella had a hard time choosing between the other cars in his collection, including Ferraris (F40, F50, 288 GTO and F50 GT). In 2010, the Japanese collector sold this F1 to a private collector in Chicago. Recently, it changed hands again, and it is the current owner--simply described as a McLaren enthusiast (what a description)--who is now putting it up for sale.
The estimated bids are--get ready for this--$12,000,000 (P522 million) to $14,000,000 (P609 million). Those are stupendous amounts, but if any car can command that many zeroes at an auction, it's a supercar as special as the McLaren F1.
Photos by Brian Henniker