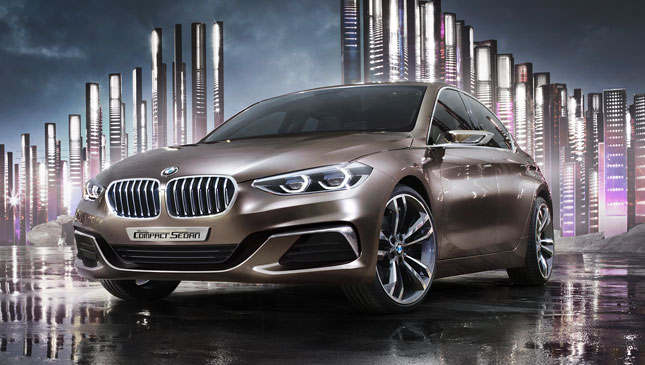 Just like any dynamic and forward-thinking company, BMW thinks about what lies down the road. And in its vision of the future, there is a compact sedan that could be an important part of its lineup. This is the Concept Compact Sedan, which the company recently unveiled at Auto Guangzhou in China. As the name suggests, this is a peek into the future of the blue-and-white propeller brand.
The car features a sleek, swept-back greenhouse that complements a long hood and a generously sized trunk. The former is a trademark of BMW, especially with its more sporty coupes. Moreover, such a design provides more-than-adequate occupant space inside, without compromising the classic BMW shape and exterior styling cues. Speaking of BMW hallmarks, these are naturally present in the updated twin-kidney grille and the dynamic Hofmeister kink. The car is finished in a chic Liquid Metal Bronze shade.
What BMW seems to really want to convey with this car is the look of power--despite it being a compact. This can be seen in the "sawn-off" effect of the twin circular headlamps that are angled toward the twin-kidney grille. The entire look is given more depth by the V-shaped central air intake underneath. It's a purposeful stance that's likewise functional as it helps provide better airflow to the engine and other drive components. The rear, meanwhile, boasts signature L-shaped LED taillights, as well as an apron that makes the car look more menacing.
Continue reading below ↓
Recommended Videos
The interior is yet another area where BMW paid close attention. It's a typical driver-centric theme in here, with all controls placed within easy reach and angled facing the person holding the tiller. It's a mix of classic shapes--such as horizontal nozzle air vents--and premium materials like nappa leather, brushed metals, and open-pored woodgrain paneling. Moreover, the futuristic touch can be seen in controls that are set amid a smooth surface, making them part of a neatly integrated touchscreen interface. All pertinent information is housed in an 8.8-inch central monitor and a bright heads-up display.
With the 3-Series growing in size, we wonder if this Concept Compact is set to become the new 1-Series sedan. Of course, all this remains to be seen. For now, we'll just have to enjoy staring at this cool car.