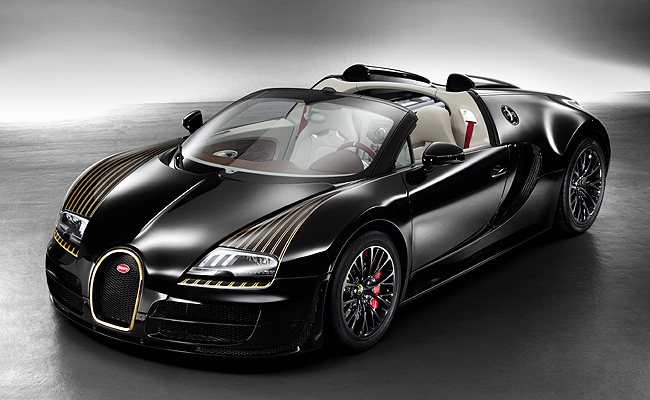 Bugatti is honoring its Type 18 "Black Bess," which, according to the French carmaker, "went down in automotive history as one of the first-ever street-legal super sports cars," by releasing a modern interpretation of it: the Veyron 16.4 Grand Sport Vitesse, to be presented at the 2014 Auto China exhibition later this month.
The Black Bess Vitesse is the fifth model in the six-part Bugatti Legends Series, which means it will only have a very limited run of three units with each one priced at 2.15 million euros.
"Over the course of its history, Bugatti has not only been responsible for crafting enormously successful race cars, but has also created some outstanding road vehicles," said Bugatti Automobiles president Wolfgang Schreiber. "As the fastest road vehicle of its time, the Type 18 was in a class of its own. It truly is the legitimate forerunner for the Veyron, and is therefore a Bugatti Legend."
The Black Bess Vitesse's body is made entirely of carbon fiber and, just like its predecessor, is painted completely black. And like the original Black Bess, its modern counterpart has gold-colored accents, like body components that are coated in 24-carat gold, including the Bugatti horseshoe on the black front grille. Sporting a similarly brilliant gold finish are the EB logo on the rear of the vehicle and the hub covers on the black rims. The tank and the oil caps, meanwhile, have been engraved with the "Black Bess" nameplate and elegantly finished with gold paint.
Continue reading below ↓
Recommended Videos
The interior is fully upholstered in leather. The most impressive details are the sketches that depict the historic Type 18, which have been hand-painted on the door panel. To protect the images from abrasion and environmental impacts, Bugatti reportedly developed a new ink and impregnation process for it. Adding to the car's rarity is the fact that none of the six door panels of the three Black Bess Vitesse vehicles are identical.
Based on the regular Grand Sport Vitesse, the Black Bess Vitesse has 1,184hp and 1,500Nm from its W16 engine, giving it a 0-100kph sprint of 2.6 seconds and a maximum speed of 409kph "with the roof down."