Another Chinese car manufacturer is entering—or re-entering, rather—the Philippine market.
Chery, which first arrived on local shores way back in 2007, is attempting to make a comeback as part of the recent influx of carmakers hailing from the People's Republic. It's now under the management of Foton distributor United Asia Auto Group Inc. (UAGGI)
The brand's initial lineup will consist of only crossovers: The Tiggo 2, Tiggo 5X, Tiggo 7, and the 7-seater Tiggo 8. All the abovementioned offerings come packing a 1.5-liter four-cylinder DOHC gasoline engine—the Tiggo 7 and 8 get turbochargers—mated to either a five-speed manual or a six-speed automatic transmission.
The Tiggo 2's 1.5-liter mill is capable of 106hp at 6,000rpm and 135Nm at 2,750rpm. The Tiggo 5X, meanwhile, does 114hp at 6,150rpm and 141Nm of torque at 3,800rpm. Finally, both the Tiggo 7 and Tiggo 8 can put out up to 145hp at 5,500rpm and 210Nm between 1,750-4,400rpm.
ADVERTISEMENT - CONTINUE READING BELOW ↓
Design-wise, all Cherys sport a relatively compact look with modern designs and muscular faces. The Tiggo 8 midsize crossover is arguably the toughest-looking of the bunch, thanks to a large grille featuring an intricate mesh appearance. Other noteworthy design choices include the 7's sweeping headlight designs and attractive alloy wheel designs across the range.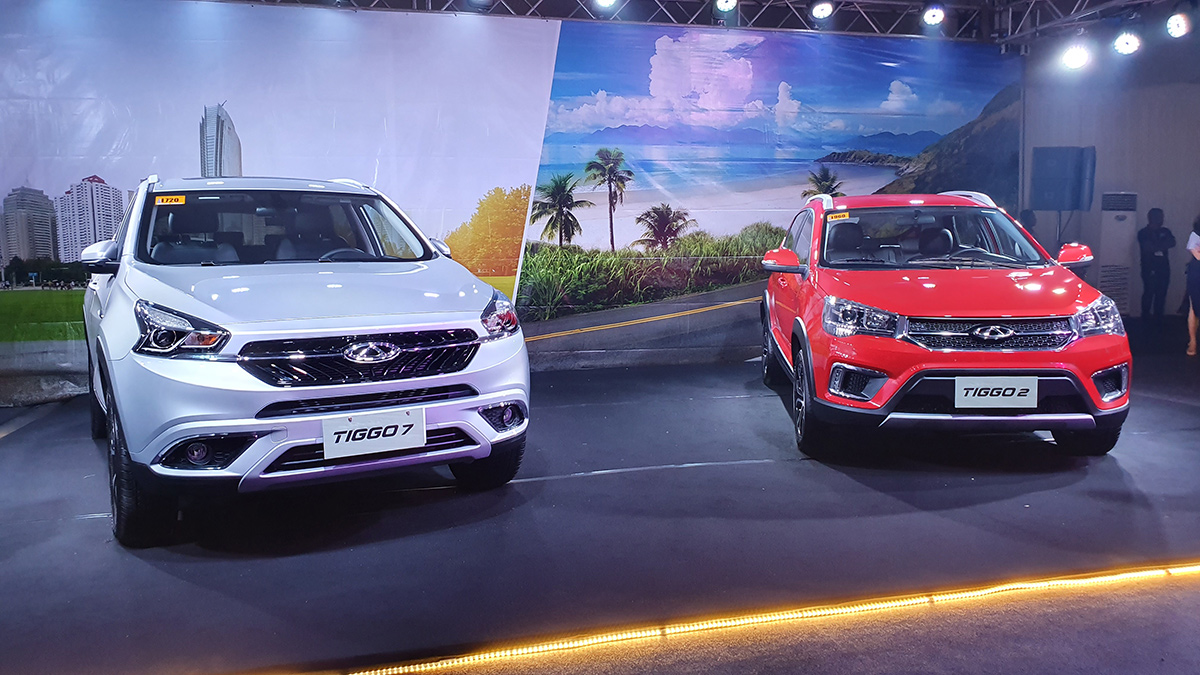 ADVERTISEMENT - CONTINUE READING BELOW ↓
Recommended Videos
It doesn't look like Chery is scrimping when it comes to features, too. Higher-end variants boast 10-inch touchscreens, automatic headlights, power-adjustable seats, cruise control, and even foot-sensing power tailgates. Chery also says all of its vehicles come with six airbags and electronic driving aids.
Lastly, if you're still on the fence about the reliability of Chinese-made automobiles, Chery is including a 10-year/one million-kilometer powertrain warranty and five-year general vehicle warranty with all of its units. This is on top of three years of free preventive maintenance service.
Below are the prices of Chery's Philippine lineup:
2020 Chery Tiggo 2
Chery Tiggo 2 MT - P695,000
Chery Tiggo 2 AT - P770,000
2020 Chery Tiggo 5X
Chery Tiggo 5X MT - P818,000
Chery Tiggo 5X CVT - P860,000
Chery Tiggo 5X Luxury CVT - P950,000
2020 Chery Tiggo 7
Chery Tiggo 7 AT - P1,195,000
2020 Chery Tiggo 8
Chery Tiggo 8 AT Luxury - P1,280,000
Chery Tiggo 8 AT Luxury EX - P1,340,000
ADVERTISEMENT - CONTINUE READING BELOW ↓
"The time is ripe for us to bring in a second automotive brand," UAAGI president Rommel Sytin said. "And we are convinced that Chery Auto now has the right mix of design, features, technology, and pricing in its product line to make a strong impact on the Philippine market."
What do you think of Chery's initial Philippine offerings? How will it stack up against other Chinese manufacturers in the country?