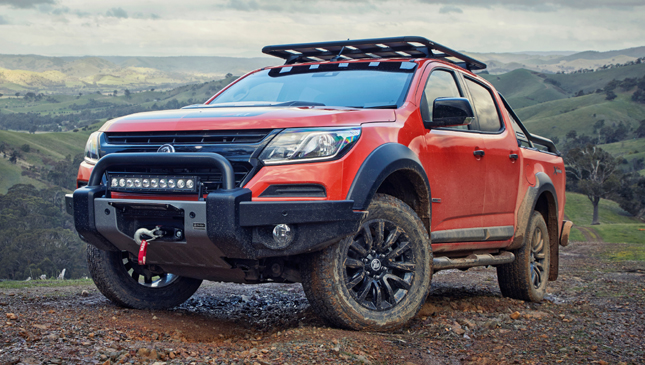 When it comes to pickup trucks, few countries in the world can utilize them as fully as Australia. The Land Down Under features just about every type of terrain there is, including wide-open deserts. So from a practical standpoint, pickups--or utes, as they're called over there--just make sense.
Australia's affinity for pickup trucks is also why its market receives gets plenty of special variants from major car manufacturers. Earlier this year, Toyota gifted the country with a lineup of special, more rugged Hiluxes. Now, Chevrolet is doing the same with the Australian release of the Colorado Z71 Xtreme.
Continue reading below ↓
Recommended Videos
As its name implies, the Colorado Z71 Xtreme is a more extreme version of the American carmaker's pickup truck offering. It's based off a concept vehicle displayed at the 2016 Bangkok International Motor Show, and is built by a Melbourne-based design team.
GM dealer Holden says the vehicle comes with a winch system, heavy-duty bash plate, a high-visibility LED light bar, an upgraded front suspension, all-terrain tires, a roof tray, and a vehicle recovery kit--all of which should come in handy for when owners find themselves traversing the outback.
Holden product marketing manager Andre Scott says the Colorado Z71 Xtreme will be sure to resonate with the Australian market.
"As a base vehicle, Colorado Z71 is already very capable, so we've expanded our Genuine Accessories range for additional off-road capability. Cue the Holden Winch system, the Xtreme's hero accessory, which is a game-changer," Scott said in a statement.
"Backed up with a long list of accessories, customers can have confidence that their ute will not only look rugged but will be able to perform in the harshest of environments," he added.
It's nice to see the Colorado' still getting some nice support from manufacturers well into its life span. Looking at its equipment list, do you think the Z71 Xtreme is as special as its dealer makes it out to be?