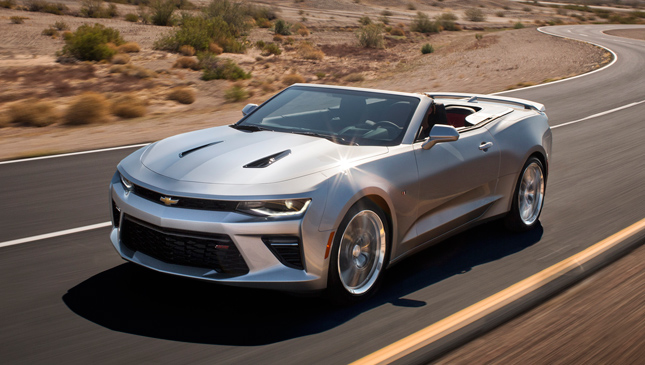 When the Chevrolet Camaro first came out with a convertible variant more than four decades ago, available models came with a simple manually operated top, while a power-operated top was offered as a $52.70 option. This was about as cutting-edge as convertible technology was at the time, and 47% of buyers went for the latter option.
Fast-forward through six generations of Camaro later, and you'll find Detroit-based car manufacturer Chevrolet once again poised to make a mark on drop-top lovers with the all-new 2016 Camaro Convertible.
According to a statement by Chevrolet marketing manager Todd Christensen, the 2016 Camaro recently set the benchmark in terms of technology, performance and design. "Adding the most sophisticated top in the segment brings another level of refinement--and driving enjoyment--to the Camaro Convertible," he said.
The Camaro Convertible's top features remote opening and a fully automatic operation, with latches that secure the roof automatically. The top also boasts the capability to open and close at speeds of up to 42kph, while a hard tonneau cover deploys automatically upon lowering, giving the car a more refined look with the top stowed.
Design director Tom Peters was specifically happy with the hard cover, putting emphasis on the convertible's sleek design thanks to the top's ability to fold down completely below the belt line. "With many convertibles, you have to affix a tonneau cover manually, if it's done at all," he pointed out. "The Camaro convertible's automatically deploying hard tonneau not only makes it easier to enjoy convertible driving when the inspiration hits, it ensures the car always looks its best."
Continue reading below ↓
Recommended Videos
Top or no top, Chevy execs seem to have no shortage of praise for their newest model. Whether or not it's worth the hype, we'll just have to find out for ourselves when it comes out in early 2016.