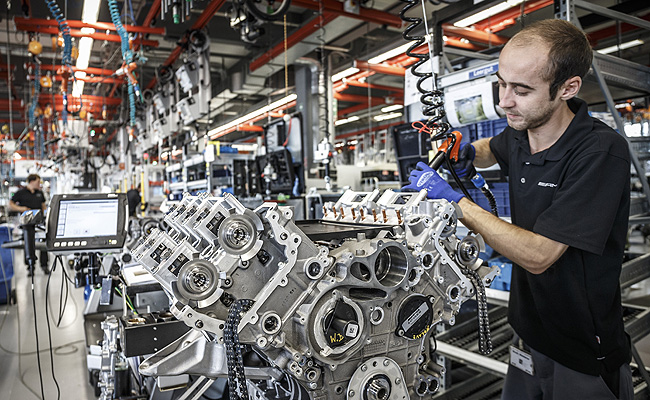 The 4.0-liter biturbo V8 engine of the Mercedes-AMG GT won't be exclusive to the supercar since Mercedes-Benz's high-performance brand has confirmed that this powerplant will also be used on the successor to the C63 AMG.
According to Mercedes-AMG, the successor to the C63 AMG will have a 4.0-liter V8 biturbo engine that's based on the one used by the Mercedes-AMG GT. However, what you may find hard to believe is that the output of the engine for the C63 AMG's replacement is supposedly "up to 510hp and 700Nm." This means that with over 50Nm more than the top-spec'd Mercedes-AMG GT S, the replacement for the C63 AMG is slightly more powerful than the GT S supercar.
However, despite the significant power upgrade over the current C63 AMG, the V8 mill of the new model supposedly has the best fuel economy in its segment to go with its low harmful emissions, with the latest member of the AMG BlueDirect engine family said to have an average fuel consumption of 12.2km/L.
"It goes without saying that the successor to the current C63 AMG will again be powered by an eight-cylinder engine," said Mercedes-AMG chief executive Tobias Moers. "We owe that to our loyal fans, plain and simple. The AMG V8 Biturbo engine mesmerizes not only with maximum power and torque, but also with the absolute best fuel economy in the comparative segment."
Continue reading below ↓
Recommended Videos
The C63 AMG replacement will soon be unveiled as a sedan and as a station wagon.