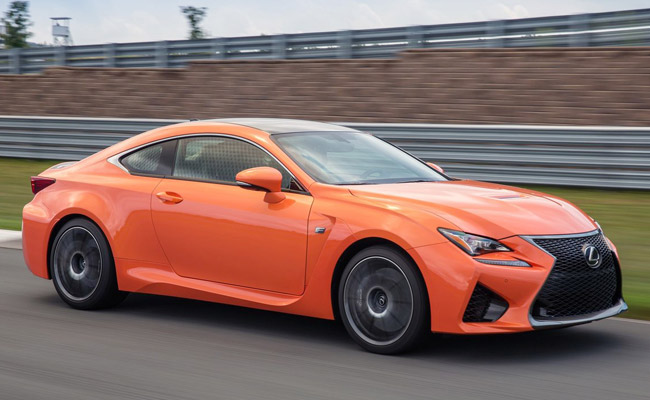 Less than three months after Lexus Manila launched the NX300h hybrid compact crossover, the Philippine distributor of the Japanese luxury carmaker is formally introducing the RC sports coupe (as well as its more desirable version, the RC F) tonight--a new model we'd rather call the baby LFA. Yep, that gorgeous car gracing one of two covers for our November 2014 issue.
In December last year, we reported that Lexus Manila would indeed bring in the RC this year, but our forecast was "around August," so we're off by a quarter. Nevertheless, we did get one thing right: that part about potential buyers "clamoring for a V8-powered RC," which is basically the RC F. The regular RC is powered by a 3.5-liter V6, while the RC F is equipped with a monstrous 5.0-liter V8 that's good for 467hp. Or good for some serious fun behind the wheel, in other words.
Now, because most of the customers interested in the new coupe had signified a preference for the RC F, Lexus Manila naturally wanted to have ample allocation of said version. Unfortunately, the company was informed that it would be getting just three units of the RC F this year. Which was unacceptable since the distributor had already accepted reservations for more units.
Continue reading below ↓
Recommended Videos
Thankfully, top Lexus officials came to town around middle of this year, and Lexus Manila's bosses (chairman Alfred Ty and president Danny Isla) were able to present their predicament over breakfast. The pair made their case so well that instead of just the 12 RC F units they were requesting, the Lexus executives ended up committing 17 units. But wait...there's more.
Soon after that fruitful breakfast meeting, Lexus Manila got official word that it would receive seven more units of the RC F on top of the promised 17 units--for a grand total of 24 units just for 2014 alone (less than two months to go at that). And as you read this, Isla has informed us that at least five RC F units have already been delivered to their lucky owners (including big-time car enthusiast Ramon Ang).
The most popular RC F color? Orange, otherwise called Solar Flare. That's the exact paint job on the RC F on our cover--minus the optional carbon-fiber hood.
If you're interested in the RC F, which sells for P5.868 million, you'd better claim one of the remaining units now. If you find the V8 engine too much for you, there's always the more attainable RC, priced at P3.648 million. Good luck!