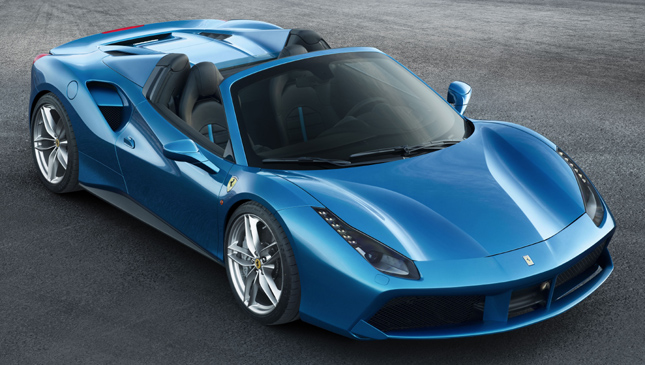 There has been no shortage of amazing vehicles at this year's Frankfurt Motor Show, but perhaps the most intriguing of the bunch--to us, at least--is Italian super brand Ferrari's latest open-top V8 offering, the new 488 Spider.
The 488 Spider is powered by a 3.9-liter turbocharged V8 capable of producing 660hp at 8,000rpm. This V8 engine propels the car from 0 to 100kph in just three seconds, and 0 to 200kph in under nine seconds. A 0.06-second improvement in steering-wheel input allows for a more fun and dynamic drive, while a lightning-quick throttle response time of just 0.8 second practically cancels out lag common with similar engines.
There's more to this car's superb capability than what it's packing under the hood. The Spider's frame and chassis were expertly crafted by the Scaglietti Centre of Excellence using extremely light high-performance alloys--11 different 6000-series aluminum alloys with varying amounts of magnesium, to be exact. Design-wise, the car's structure and aesthetics complement its aerodynamics perfectly. Flying buttresses, engine cover ribbings, and sculpted mesh grilles provide the Spider with a dynamic design language, while at the same time optimizing airflow to the engine. The 488 Spider's structure and material composition give it a 23% improvement in performance over the 458.
ADVERTISEMENT - CONTINUE READING BELOW ↓
Now, we're sure that a lot of drop-top enthusiasts are curious as to what the new 488 Spider sounds like. Well, you'll be glad to know that the engineers over at Maranello have made sure that the car's overall harmonics remain music to the ears. Exhaust headers with longer, equal-length piping and the vehicle's flat-plane crankshaft lend this Spider an increase in both volume and clarity as the engine responds to the accelerator and the revs rise.
The new Spider will also be available in the all-new Blu Corsa color scheme, a metallic two-layer finish that gives the exterior a lustrous effect. With the car's beautiful design and blistering performance, the Ferrari faithful will be sure to welcome this latest addition with arms wide open.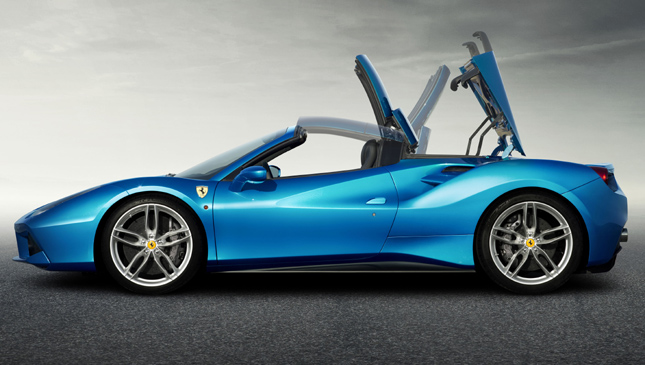 ADVERTISEMENT - CONTINUE READING BELOW ↓
Recommended Videos