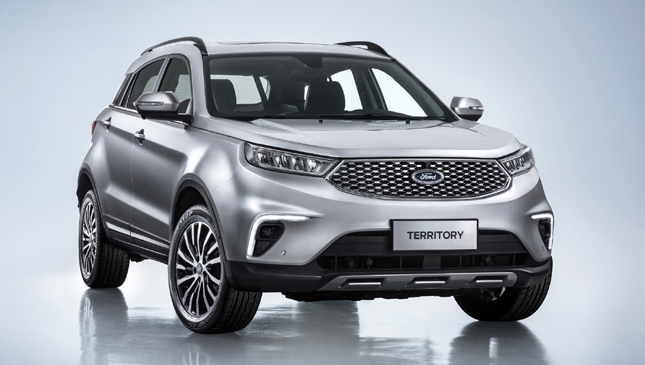 Ford has launched an all-new midsize SUV dubbed the 'Territory' in China, and the American carmaker believes new buyers in emerging cities will be eager to grab it.
Developed together with the Jiangling Motors Corporation (JMC), the Territory comes available with either a traditional gasoline powertrain, a mild hybrid, or a plug-in hybrid setup. It's slated to go on sale in early 2019, and is part of the company's plan to bring in 50 new vehicles to the market by 2025.
Design-wise, the Territory actually looks relatively elegant for a Ford. It's a muscular look accentuated by soft curves and an intricate, premium-looking mesh grille up front. The headlights are reminiscent of the EcoSport's though. Inside, there's a modern dashboard design and layout, a touchscreen infotainment system, a sunroof, and a dark overall interior with leather seats.
Continue reading below ↓
Recommended Videos
The company also says it will come with a host of tech, including adaptive cruise control, pre-collision assist, and a variety of other driver-assistance features.
Ford says the vehicle will be a very affordable offering that will cater to Chinese tastes. Peter Fleet, Ford China CEO, says the Territory is a breakthrough product for the market: "Territory is a key proof point for how we will grow in China. We brought Territory to market with speed, high quality and cost efficiency. It will be affordable for young families and new buyers across China, not just the coastal megacities. And the technology will delight customers."
While the manufacturer calls it a midsize SUV, based on photos it doesn't appear to come with a third row in the back—something customers here have associated with the segment. Proportion-wise, it appears to be more of a crossover than anything else.
What do you think? Is the Territory really a midsize SUV?