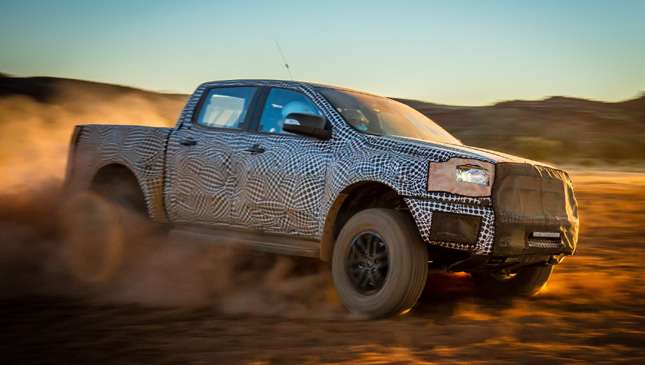 Brace yourselves: A 'Raptor' variant of the Ford Ranger is coming…maybe.
The American carmaker has announced that the off-road performance nameplate—most popularly associated with the massive F-150—will be hitting the Asia-Pacific market in 2018. No word yet on whether or not the Philippines will be among the lucky markets to receive it.
Initial photos and a short teaser video revealed through social media show off a tougher exterior look, albeit on a unit covered in camouflage. Outside of that, Ford says the Ranger Raptor will bring "a level of capability and off-road performance never before seen in the midsize pickup segment," as well as "thrilling" off-road features. It's "a new and distinctive breed of truck," the brand says.
Continue reading below ↓
Recommended Videos
Trevor Worthington, Ford Asia-Pacific vice president of product development, says the region can expect the Ranger Raptor to raise the bar for pickups. "The Ford Ranger Raptor will offer Ranger fans a fantastic opportunity to own an authentic off-road performance version of their favorite truck," he says.
If Ford stays true to all of this talk, then this won't be just a regular truck with a bunch of aesthetics slapped on for an off-road look. The aforementioned video also shows the Ranger Raptor in action in the Australian outback during high-speed testing. Ford Performance chief engineer Jamal Hameedi says the vehicle will combine Raptor capability with Ranger versatility.
Okay, so far we have a truck covered in camo and a little PR talk—admittedly that's not exactly much to go by. Still, it's more than enough to get us excited for a potential Philippine release. Keep your fingers crossed, guys.