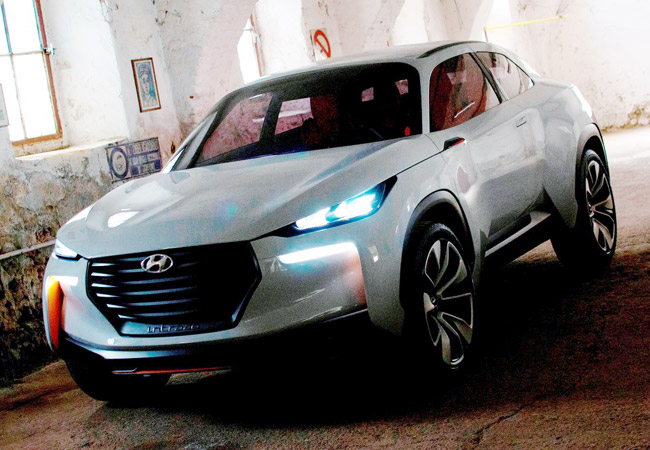 If you still have any doubts about how ambitious Korean carmaker Hyundai is, this concept SUV powered by a hydrogen fuell-cell powertrain should completely erase those. This is the Hyundai Intrado, set to be presented at the 2014 Geneva International Motor Show next week. Hyundai says this concept car is its "vision of how cars will meet future mobility needs."
The Intrado is also the first Hyundai--concept or production car--to be designed or developed under the watch of Peter Schreyer, now the president and chief design officer of the Hyundai Motor Group.
"Effortless and sensual, the Intrado reflects the open-mindedness and constant renewal of the Hyundai brand," Schreyer said. "It also shows that Hyundai wants its customers to rediscover the joy and freedom that should be associated with personal mobility. That's why this car has such purity of purpose--it's logical, lovable and liveable."
Apparently, the "Intrado" name was derived from the underside of an aircraft's wing, or that "area that creates lift." Quite fittingly, the car's body panels are made of "advanced super-lightweight steel from Hyundai's steel plant." Even the interior features a central carbon-fiber frame.
But the real story here is the propulsion inside the Intrado: a hydrogen fuel-cell powertrain with a lithium-ion 36kWh battery. It is said to have a range of up to 600km and, of course, emit only water.
"In line with our promise of a motoring future that is more relevant to users' lifestyles, we have given the Intrado a distinctive exterior and interior shape, formed from the lightweight frame that incorporates only what is necessary," Hyundai Motor Europe Technical Centre chief designer Thomas Burkle said. "The exterior is defined by a simple yet sporty profile that displays the latest interpretation of fluidic sculpture, while the interior shows how minimal ornamentation will perfectly fit into the varied lifestyles of the millennial generation."
ADVERTISEMENT - CONTINUE READING BELOW ↓
You like it?