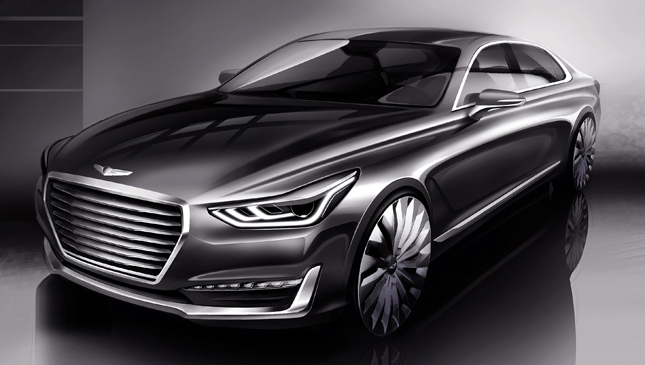 Last week, we reported that Hyundai would be launching its very own luxury brand called Genesis. According to that story, the upscale Korean brand, created in the same vein as Lexus, Acura and Infiniti, will have a unique identity to set it apart from the more mainstream Hyundai offerings. Even the logo is different--that of "the Genesis name set inside a winged badge."
A few days after the grand announcement, Hyundai gives us a peek into what the cars of its new premium marque would look like. First among the six planned models (targeted for the year 2020) is the G90 full-size sedan. Called the EQ900 in its Korean home market, the car takes styling cues from the "athletic elegance" design philosophy trumpeted by Hyundai's big bosses. So what does this mean exactly?
A close look at the vehicle reveals a simple yet elegant demeanor. The front end is characterized by a prominently large grille, in the tradition of such luxury offerings as Mercedes-Benz and even Rolls-Royce. Atop the grille proudly sits the Genesis logo. The face is flanked by sleek headlights that, if we're correct, house advanced LED lighting units. Once you train your eyes to the side, you will immediately notice a flowing character line that runs the length of the body. This extends all the way to the equally sophisticated-looking taillights. Overall, this design is clean and classy.
Continue reading below ↓
Recommended Videos
And as we said before, this is what the Genesis brand is all about. Hyundai wants to set it apart from other luxury marques by offering sophistication and simplicity rolled into one package. It will be laden with the latest tech innovations that won't overwhelm occupants. Moreover, buyers can even personalize their rides and various features to suit their tastes, whims and learning curve.
Hyundai hasn't revealed much more about the Genesis brand, the G90 or its technical details as of the moment. But the world premiere is set for December this year. That's next month. Until then, we're as excited as you are to find out what this new brand is all about. Stay tuned.