Audi's been so hot on the niche-filling trail recently, you might have missed there was one big cash generator it got beaten to: the big, luxurious, sporty SUV. There's been no Q7 in racing shoes, able to tackle the BMW X6, Mercedes GLE Coupe and Range Rover Sport properly head-on.
Well, at the Detroit Auto Show in January, that'll change. Audi's going to give the world something called a Q8 concept. And these sketches are the first clues to the hole-plugger's looks.
Audi wants to draw your attention to the Q8's nods to the past, like its Ur-Quattro-inspired C-pillar and pumped-out wheel arches. What we're more interested in is the extra intakes on top of the enormous front 'Singleframe' grille, the vents below the rear lights, and the little 'e-tron' legend on the splitter. It's going to be electric, then, but there's plenty of cues for an RS Q8 in the bodywork. Ahead of ourselves, yes?
ADVERTISEMENT - CONTINUE READING BELOW ↓
There's something else to mull over too. Although the Q8 concept shows what Audi's most aggressive SUV will look like—'a foretaste of a production model', say the Germans—there's no X6-like coupe roofline here. Audi's admitted the car only seats four, but it appears the rear seat passengers may be allowed to be a) over five feet tall and b) bring their hats. Because the Q8 gets its swagger from the big arches and squat proportions, not grafting a swoopy roofline onto a tank's underpinnings.
That's all Audi's letting on for now, but until Detroit, are you liking what you see here?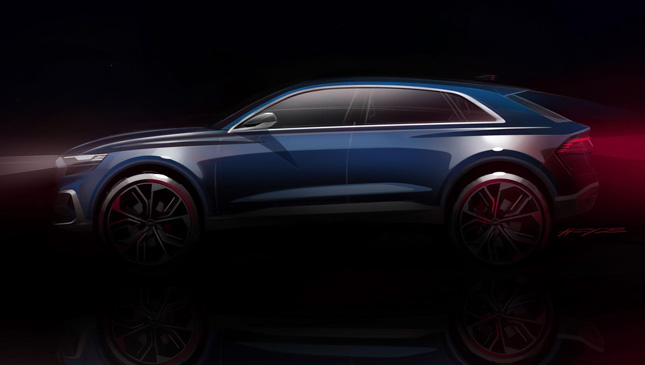 NOTE: This article first appeared on TopGear.com. Minor edits have been made.
ADVERTISEMENT - CONTINUE READING BELOW ↓
Recommended Videos