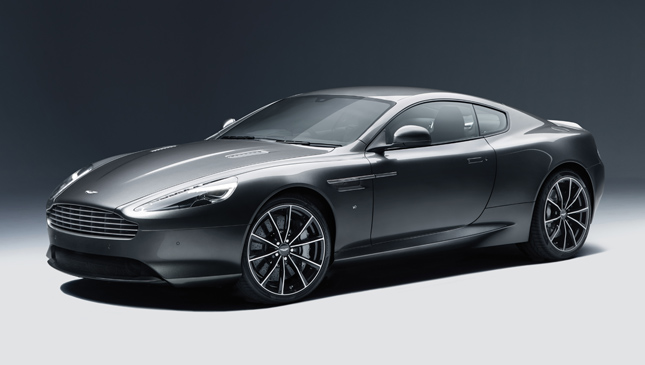 Aston Martin gave eager fan boys a treat after it unveiled a handful of upgrades and enhancements to a few of its models, not least of which was to the company's legendary DB line in the form of the new DB9 GT.
The DB series has been one of the manufacturer's key benchmarks in terms of automotive style, design and performance since it debuted in the early '50s, so it comes as no surprise that the DB9 GT will be sporting improvements in these three aspects.
Aston Martin's latest offering will be powered by an uprated 6.0-liter V12 engine, capable of generating 540hp at 6,750rpm. The GT's Touchtronic II six-speed transmission is capable of propelling it from 0 to 100kph in under five seconds, with a top speed of 295kph.
Inside, the GT will feature Aston Martin's AMi II touch-sensitive infotainment system. The AMi II offers both driver and passenger the same state-of-the-art entertainment features as its predecessor, but with revisions and enhancements that should provide a more user-friendly interface and greater personalization. Other enhancements to the interior include "GT" embroidering for the leather seats and an array of different center console finishes such as Ice Mocha and Copper Cuprum.
Continue reading below ↓
Recommended Videos
Exterior-wise, subtle yet distinguishable revisions were made to the DB9's headlight and taillight treatments. The GT exterior now features GT badges and engravings, while the car now runs on 10-spoke 20-inch alloy wheels. Options for personalization include carbon-fiber taillights, a diffuser, diamond-turned alloy wheels and alternative brake caliper colors among others.
Ian Minards, Aston Martin's product development director, says that refining the DB9 into the DB9 GT was a delicate and careful process. The executive says: "Maintaining the effortlessly refined nature of our core GT sports car, while boosting power and introducing state-of-the-art infotainment systems, has required fine judgments and painstaking engineering. I'm confident the result, in the shape of the DB9 GT, represents the very best of what the DB9 can be, and sets the standard for luxury grand tourers in this class."
Aston Martin chief creative officer Marek Reichman, meanwhile, explains that despite the subtle changes, the core form and identity of the DB9 remain. "The purity of form and proportion, together with a lithe, powerful stance, remains at the core of what the DB9 is to look at," the executive shares. "With these changes, we have made the DB9 GT more stylish, while retaining its unmistakable and globally renowned identity."
By the sound of it, the DB9 GT seems like the real deal--and it will be the most awesome DB model until the DB10 concept debuts in James Bond's next film. The DB9 GT will be making its public debut at this week's Goodwood Festival of Speed.