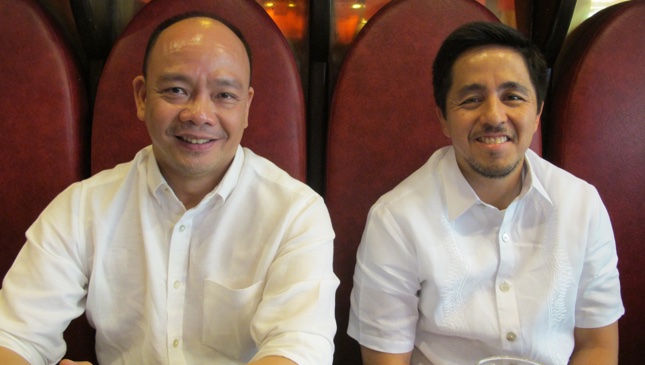 As early as July last year, we reported that British luxury carmaker Aston Martin was coming to the Philippines. In February this year, that report was confirmed when official news came out that Aston Martin had formally appointed its distributor in our market. During this time, Wellington Soong was the person who stepped forward to be the initial face of the brand in the country. Soong, as you might know, is known as the local distributor of such high-end automotive brands as Ferrari, Maserati, Jaguar and Land Rover.
But as far as Aston Martin is concerned, Soong is described as more of a "silent partner." In our previous report, we said that Soong's partner "is the big boss of the local distributor of a very popular tire brand."
Well, we can now identify who that partner is, as he and his Aston Martin Manila team hosted Top Gear Philippines to an intimate lunch today to bare their immediate plans for the brand launch. That guy is Marc Tagle, the president and CEO of Bridgestone Philippines. He will concurrently serve as Aston Martin Manila's chairman and president.
Running Aston Martin Manila's day-to-day operations is managing director Nicky Mariano, whose name probably rings a bell because he has previously held the position of general manager at the local distributors of Subaru and Tata.
Continue reading below ↓
Recommended Videos
According to Mariano, they expect to launch the British marque by late July, assuming things go according to plan. Said things include the completion of the showroom located on the ground floor of W Fifth Avenue Building, 5th Avenue corner 32nd Street, Bonifacio Global City. That and the punctual release of the expensive automobiles by the Bureau of Customs.
"Or it could be pushed to the first week of August," Mariano said, although he expressed reluctance to launch the brand in August, known in the auto industry as the ghost month, when business has been traditionally and exceptionally slow. Tagle joked that maybe they should hold the event in September instead, his birth month.
Aston Martin Manila is bringing in practically the entire product line: Vanquish, Rapide S, DB9, Vantage GT12, V12 Vantage S, V8 Vantage N430, and V8 Vantage S. Only coupes will be imported and sold here, although roadsters may be shipped in by indent.
"Aston Martin roadsters have soft tops," Tagle shared, presumably pointing out that the configuration and the material do not fit a hot tropical country like ours. "I was the one who spec'd the first batch of units."
Asked to give ballpark figures of the cars' prices, Tagle declined and said they were still finalizing the numbers. He did mention that, in other markets, "Aston Martin cars are generally 20-30% more expensive than equivalent Porsche models. The pricing is somewhat in between Ferrari and Maserati."
When we countered that Aston Martin seemed more expensive than Ferrari, Tagle concurred: "Yes, there is that perception."
"The showroom will be about 300sqm big, and can accommodate four cars," Mariano revealed. "It will feature furniture imported directly from the UK, as approved by Aston Martin in accordance to its corporate identity."
Sales target?
"Twenty units in the first year will be healthy," Mariano replied.
"But 12 units is realistic," Tagle quickly added. "Technically, that's one unit a month, but since our sales target started in February, we will now have to sell two units a month to meet the 12-unit quota for the year."
Tagle then volunteered that they have five units of the V12 Vantage S and two units (out of just 100) of the Vantage GT12 coming. He's still deciding whether to get the former or the latter for his personal car, which he is very excited about, considering he has never owned an Aston Martin before.
"Aston Martins are not the fastest nor the most powerful luxury sports cars out there," Tagle admitted. "They're not about sheer speed. But the driving experience is something else. They're more chill. They have more road presence. And the brand is very exclusive. Last year, only 4,000 units were sold around the world."
Will they service Aston Martin cars bought from the gray market?
Tagle nodded. "We will probably just have to charge a small percentage of the SRP as enrollment fee," he explained.
"We have to be nice to them," Mariano said. "We need their business."
Well, it looks like it will be a very good business for Aston Martin in the Philippines. We can't wait to see one of its stylishly elegant automobiles overtaking our pedestrian car on the expressway. No...we can't wait to drive one ourselves. Fortunately, we now know whom to bug for demo units.
Photos by Vernon B. Sarne