Everybody, brace yourself for the Jeep Grand Cherokee Trackhawk: the world's fastest and most powerful SUV.
Want some numbers to chew on? Well, feast on these: 0-100kph in 3.5 seconds, a top speed of 290kph, 100-0kph seen off in 114 feet, and .88g pulled on the skidpad. All this i n a car that's meant to be a premium way to drive over rocks.
It's courtesy of Dodge's wondrous 707hp, supercharged 6.2-liter, HEMI V8 from the Hellcat. A motor that's a mix of supercharger whirr and head-banging oomph which, in our opinion, needs to be dropped in as many cars as possible. Like a sledgehammer muscle car and now, um, a family SUV. Heck. Yes.
With Ferrari and Lamborghini-rivaling power, plus 875Nm of torque, some substantial beefing up has had to happen to prevent the Trackhawk's chassis looking like a cheese twist with each squirt of the throttle.
First off, the eight-speed automatic transmission has been strengthened while the rear driveshaft has been bolstered and connects to a stronger, stiffer rear axle. There are also the largest-ever front brakes fitted to a Jeep—400mm two-piece vented rotors with six-piston yellow calipers from Brembo to help try and shave off that top speed before you hit something immovable at high speed.
Continue reading below ↓
Recommended Videos
Like all proper Jeeps, it's four-wheel-drive with an electronic limited-slip diff at the back and a single speed active transfer case. The torque split varies depending on what mode you're in, but in the most hardcore 'Track' setting, you've got a 30:70 front-rear split. Given that the lower-powered SRT Cherokee is more than happy wagging its booty and lifting a front wheel, we're sure that this much more powerful Trackhawk will also oblige in similar hoonery. And to be honest with you, we'd be disappointed if it didn't do a four-wheel burnout.
Talking of hoonery, the Trackhawk also incorporates technology from the mad-as-a-badger Dodge Demon. Notably, the torque reserve launch system for drag racing-style starts off the line.
It's active whenever the car is in launch mode and you have more than 1,000rpm on the clock. It works by increasing supercharger revs without torque overwhelming the brakes and spinning the tires. The bypass valve on the supercharger closes (known as prefilling the supercharger), while the fuel flow to the cylinders and spark timing changes. Basically, it creates more energy that can be released more efficiently for a what-the-hell-was-that type quarter mile time.
Looks mean too. Swollen with wider arches, side sill cladding and a sculpted hood with two nostrils to help extract the colossal heat produced from the rampant supercharged V8. And if you look closely, the foglights have been deleted, and there's a scoop integrated into the front bumper allowing for plenty of air to be sucked in to the 92mm throttle body and supercharger. Out the back, there are four black chrome exhausts. Don't quote us on this, but we suspect they might make a rather pleasing noise.
The inside has been jazzed up with red and black leather and suede seats complete with 'Trackhawk' emblems, a speedo that reads all the way to 322kph and flourishes of carbon fiber. There's an air of comfort and function, thank to plenty of displays, Apple CarPlay and all the cubby holes you'd expect from a family off-roader.
So, a production Jeep with power that rivals Ferrari and Lamborghini. It's safe to say the world has gone properly mad and we love it. We'll get to see the Trackhawk for ourselves at the New York Auto Show before it arrives in showrooms at the end of the year. Excited? We sure as hell are.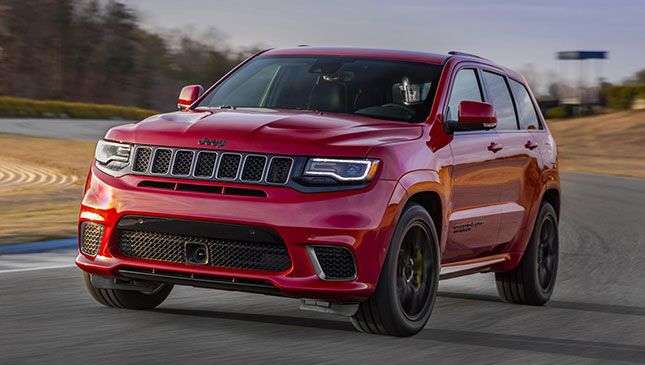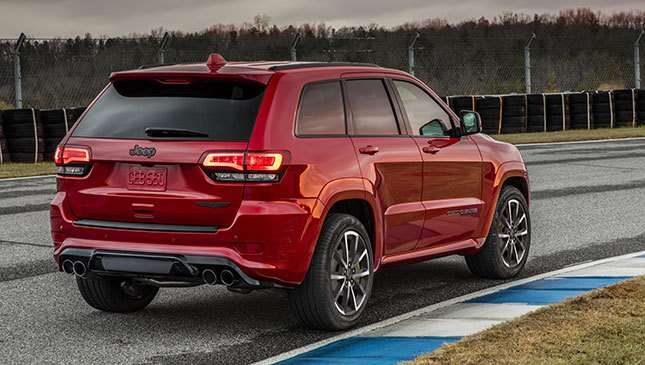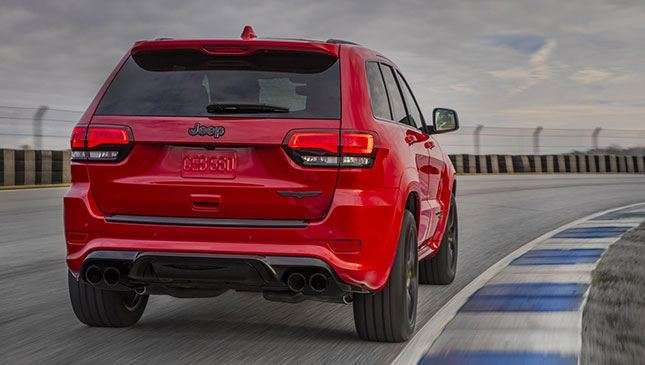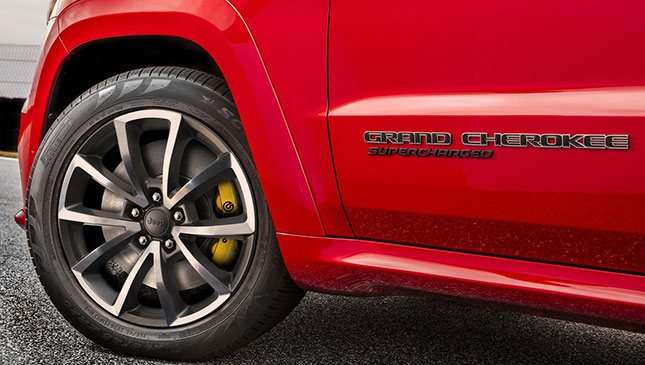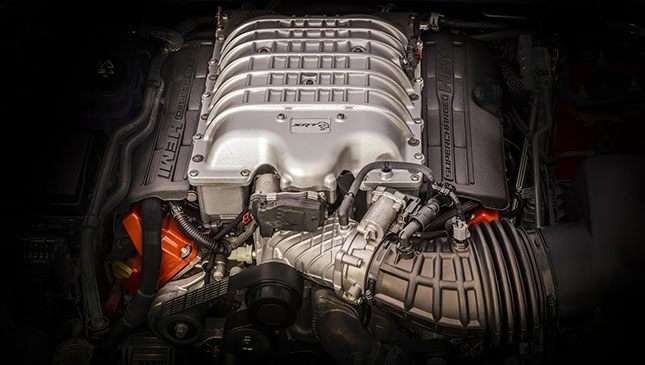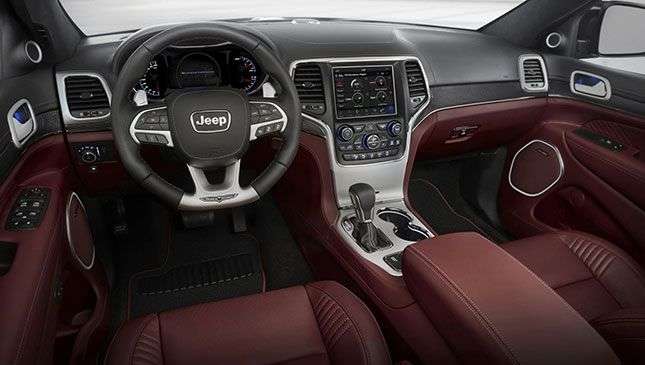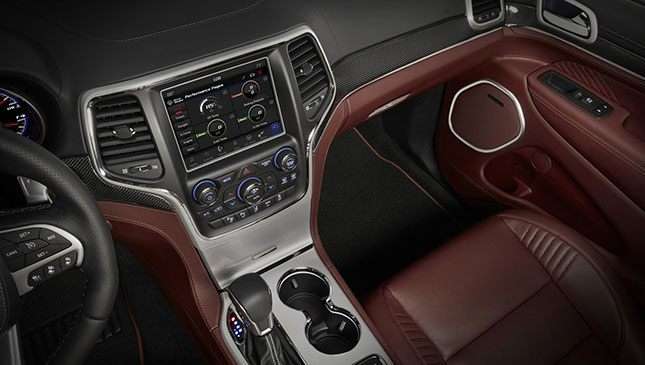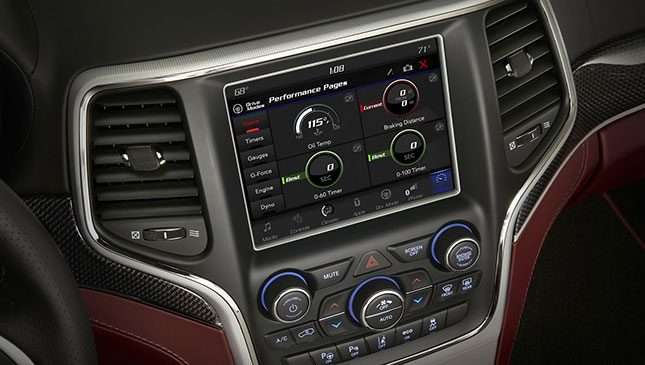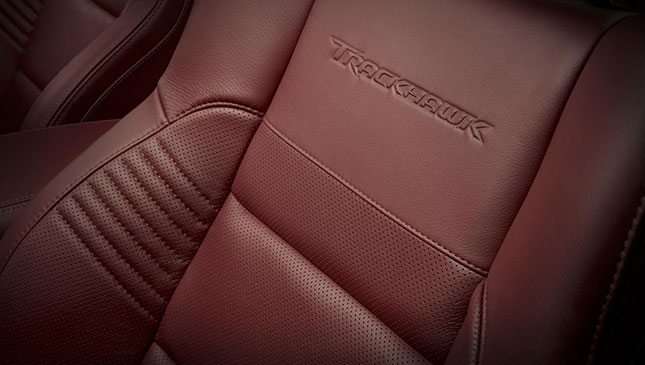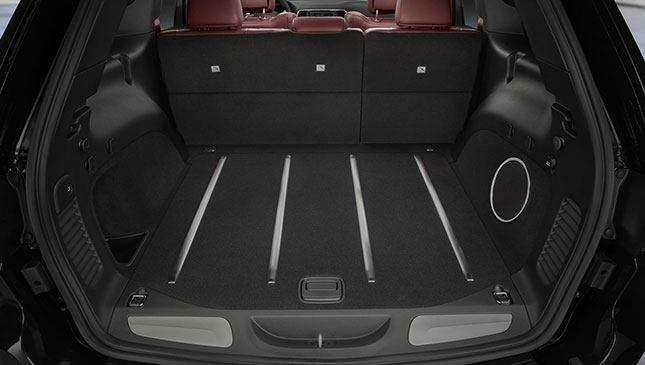 NOTE: This article first appeared on TopGear.com. Minor edits have been made.