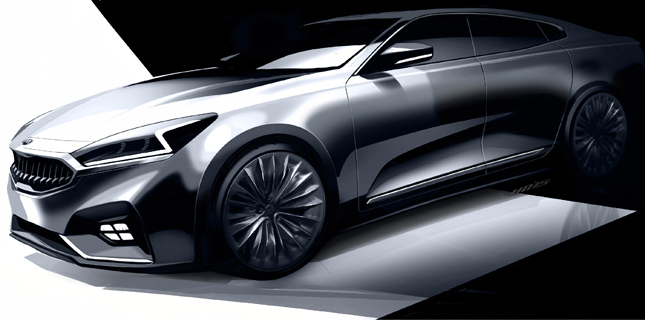 Have you ever heard of the Kia Cadenza? The name may sound foreign unless you're really into cars. Truth be told, it's one of the lesser-known Kia models out there. In our market, a few examples have been brought in by the official representative, mostly for its top management.
For those who aren't aware of it, this Kia is actually a luxury sedan that's in the same league as the Hyundai Azera. In fact, these two share underpinnings, since they're from sister companies.
After almost four years of being on sale, the Cadenza is set to undergo a full model change. Kia has revealed a few sketches showing a car that looks just as upscale--if not even more so--than the current iteration. And this is exactly what Kia hopes to achieve with its premium marque--a car that lets the world know that its owner has arrived.
The next-generation Cadenza evokes a more stately presence with its wider, lower stance, an elongated front end, and an overall style that's sharp--just like a finely pressed suit. The face is still the familiar Kia "Tiger Nose" grille, flanked by sleek headlights. In this case, however, the whole design is more modern and youthful.
Continue reading below ↓
Recommended Videos
The same premium touch will be seen in the cabin. Materials inside are more refined, says Kia, while equipment levels are set to be at par, if not better, than more expensive rides. While this may just be PR talk at present, it seems believable. We say this since the current Cadenza offers a host of luxury-car amenities. These include heated and ventilated seats, nappa leather, and dual sunroofs, just to name a few items.
No details have been given about engine and mechanicals. These will be unveiled together with the actual car in a few months' time. And with Hyundai set to launch its Genesis premium brand, the Cadenza should do well to lift Kia's image even further on the global stage. We look forward to seeing this new model in 2016.