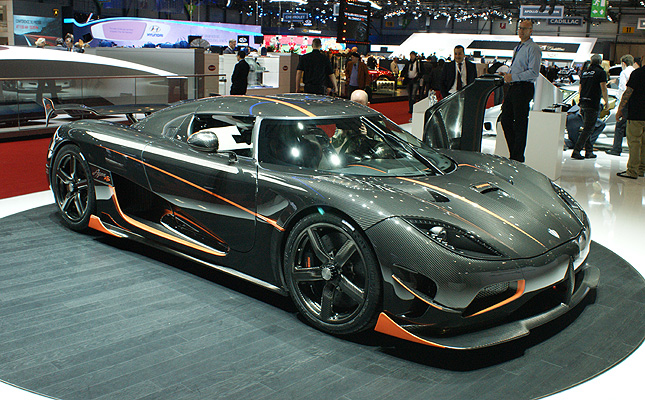 A month ago, we reported that Swedish supercarmaker Koenigsegg was going to launch two new cars at the Geneva Motor Show. Well, with the annual event now in full swing, here are the cars: the Agera RS and the Regera hybrid megacar.
The Agera RS is the more potent model from the Agera line, as Koenigsegg basically adapted the technology from its One:1 megacar program to the Agera while maintaining the features and functionality of the Agera R and S models. Enhancements that the Agera RS received are advanced lightweight sound insulation, track-optimized front splitter, front winglets, side skirts, improved side air outlets behind the front wheels, advanced dynamic underbody flap system, and a dynamically active rear spoiler that can generate up to 450kg of downforce at 250kph. The RS is also lighter than its R and S brethren thanks to its advanced chassis and the use of body composites.
The 5.0-liter V8 engine of the Agera RS has also been improved as it now produces 1160hp and 1280Nm on just regular pump gas of either 93 or 95 octane, giving it an output of 232hp per liter. In certain markets, the Agera RS can be upgraded with flex fuel capability to let it run on E85-rate gasoline "for even higher power levels."
Continue reading below ↓
Recommended Videos
Only 25 examples of the Agera RS will be manufactured by Koenigsegg, with 10 units having been pre-sold even before the car's debut.
As for the Regera, the second Koenigsegg megacar is "the fastest-accelerating, most powerful production car ever." Not only is the Regera powered by a 5.0-liter twin-turbo V8 mill, its plug-in direct drive electric propulsion system enables the car to produce over 1,500hp and over 2,000Nm.
According to Koenigsegg, what makes the Regera unique compared to other hybrid hypercars is its direct drive transmission that drives the rear axle "from the combustion engine without the need for multitude gears or other traditional types of variable transmissions, with inherently high energy losses."
Using a total of three electric motors--one for each rear wheel and one on the crankshaft--the propulsion features "the most powerful electrical motor setup in production-car history, replacing the gears of a normal transmission while adding power, torque and torque vectoring, and yet is still able to remove weight."
With its hybrid drivetrain, the Regera is said to be able to run from 150kph to 250kph in in 3.2 seconds, while 400kph is reached from a standing start in less than 20 seconds.
The Regera also boasts the world's first fully foldable, top-mounted active rear wing that folds down into the bodywork, "enhancing the car's elegance while parking and reducing drag while cruising."
Only 80 units of the Regera will be built by Koenigsegg.