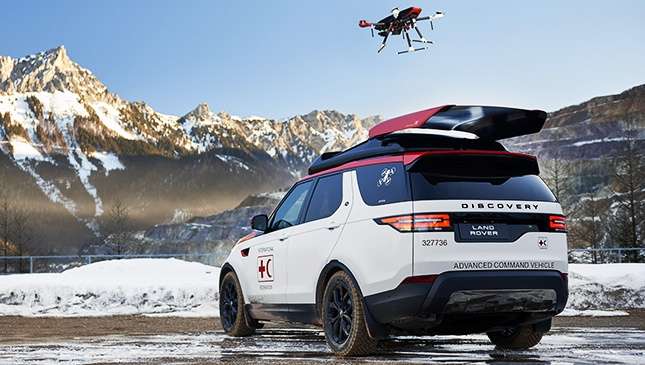 Quick: What's one of the first things a relief operation needs to establish in the immediate aftermath of a natural disaster? Maybe a source of food and water, or some shelter and transportation? Well, you're not wrong, but a line of communication and planning is pretty important too, right?
Land Rover and its Special Vehicle Operations division hopes to address that last bit with 'Project Hero'—a bespoke version of the Discovery SUV born of a special collaboration with the International Federation of Red Cross and Red Crescent Societies. The vehicle was recently presented to the media at the 2017 Geneva International Motor Show, and is set to undergo trials with the Austrian Red Cross.
Continue reading below ↓
Recommended Videos
Project Hero isn't your typical disaster relief transport. It won't carry tons of goods or ferry scores of distressed individuals to safety. What it will do though, is improve communications and cut disaster response times using its extremely mobile search and rescue drone with world-first magnetic retention and self-centering technology.
The drone—which can take flight and land on Project Hero thanks to its aforementioned tech—is designed to transmit live footage to emergency response teams and map out terrain which could prove hazardous to ground teams looking for survivors. The aerial view it provides rescuers can be a game changer under many emergency scenarios, including avalanches, landslides and earthquakes.
Other life-saving features? Lots of equipment mounting points, a heavy-duty sliding floor, LED lights, multiple frequency radio equipment, and versatile power supply points. This is all in addition to the SUVs already capable 3.0-liter turbodiesel engine.
Jaguar Land Rover Special Operations managing director John Edwards says the company takes pride in supporting its partners' humanitarian initiatives. "The new Discovery is an outstanding all-terrain SUV, and Project Hero is the optimum combination of enhanced capability and innovative technology. We hope to help the Red Cross save lives in emergency situations."
This is the kind of capability you'd come to expect of the company responsible for some of the planet's most rugged vehicles. Hopefully the SUV passes trials. Who knows, maybe one day we'll see it aiding rescue efforts here in the Philippines.