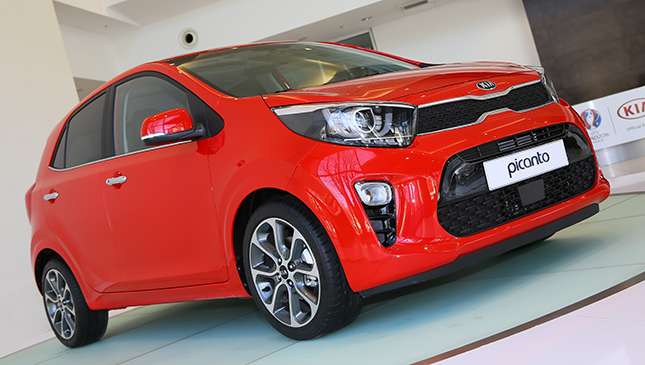 The all-new Picanto hype train isn't showing any signs of slowing down. Kia has finally released photos of the upcoming Korean hatchback—not sketches, not renders, but actual images of the car in the metal. What's more, it's our first real look at the non-GT-Line variant of the small car that's more likely to land in our market.
The carmaker also announced three powerplant choices for the vehicle: a 1.0-liter mill (66hp and 96Nm), a 1.2-liter (82hp and 122Nm) engine and—our favorite—a 1.0-liter turbocharged unit capable of 98hp and 172Nm. By the way, they come exclusively mated to five-speed manual transmissions, save for the 1.2-liter which is also available in automatic. Awesome stuff.
Continue reading below ↓
Recommended Videos
We've talked plenty regarding the car's looks in previous stories, but that was the GT-Line. You'll see the base Picanto in red below. Appearance is relatively similar, minus several trim pieces and accents prominent in the higher variant's busier front fascia. Less-sporty rims, no dual tailpipes out back, and a tamer and lighter interior (though it still gets the floating touchscreen).
It still looks very, very nice though, as it retains everything we loved in its design when the GT-Line was revealed earlier this year. The hatchback will be available in high gloss black, brown, blue, red and lime paint jobs, while interior upholstery comes in black, gray and white (with white stitching).
Kia Motors Europe COO Michael Cole expressed his confidence that the all-new Picanto will do well in its segment. "Our European customers have told us that they love the design of the outgoing Picanto. They love its low running costs, its compact dimensions for city driving, and the high level of equipment available for the money. The new model retains these strengths, and now offers a new level of dynamism and performance, as well as introducing the latest technologies for in-car connectivity and enhanced safety," he said in a statement.
The current-gen Picanto has sold more than 1.4 million units since its launch back in 2011, so you could say this one has pretty big shoes to fill. But if these images and anticipation are anything to go by, then it's well on its way towards continuing the model's success.
The all-new Picanto goes on sale in Europe by the second quarter of 2017, and will debut at the upcoming 2017 Geneva International Motor Show. We're praying we get something similar to the Euro-spec variants. Hold your breaths, guys.