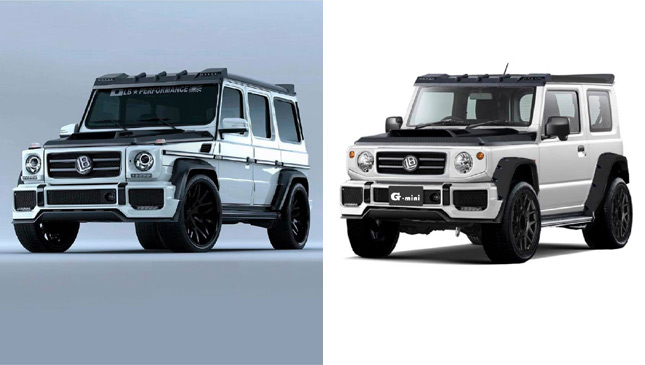 You know how we said that the all-new Suzuki Jimny looked strangely similar to the Mercedes-Benz G-Class? Well, we guess we weren't the only ones to think so. In fact, we think Liberty Walk might have just doubled down on the idea.
The bodykit specialist recently rendered customized versions of the two vehicles, even going as far as to label the Jimny as the "G-Mini."
More significantly, Liberty Walk says this is the first time it has worked its magic on an SUV. Usually, the outfit deals with performance cars, exotics, JDM legends, and even kei cars.
"We are pleased to announce the launch of first LB SUV in our history!" the company said in a Facebook post. "New LB style and more aggressive! It will be released this year! We accept pre-order now!"
Both the Liberty Walk G-Class and 'G-Mini' Jimny share the same components: there's a new hood scoop; diffusers on the roof which appear to feature LED lighting; enlarged fenders; a rear spoiler; huge black alloys; and a large quirky 'Liberty Walk' emblem planted on the grille. You can check out larger photos of the SUVs in the post embedded below.
If we're being honest, the kit looks pretty off on the Suzuki. But again, this is Liberty Walk's first time dealing with SUVs, so it's a work in progress. What do you think of Liberty Walk's latest body kit?