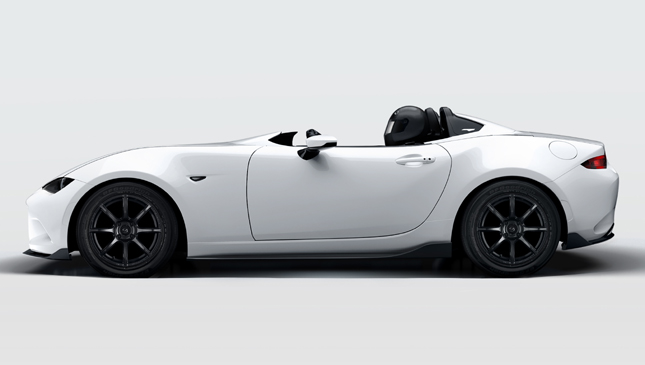 The RF is just the tip of the iceberg--Mazda isn't done playing around with the MX-5 just yet. The Japanese car manufacturer has teaser photos of its two new Miata concepts bound for this year's Specialty Equipment Marketing Association (SEMA) show: the new MX-5 Speedster Evolution and MX-5 RF Kuro.
ADVERTISEMENT - CONTINUE READING BELOW ↓
The Speedster Evolution, shown above in an eye-pleasing White Ether paint finish and all its roofless glory, takes the Miata's lightweight design to unprecedented levels. The first Speedster concept, which made its global debut at SEMA 2015, was already crazy light thanks to carbon fiber doors and seats and other lightweight components. The model making its way to this year's show is 45kg lighter than its predecessor, and is even 159kg lighter than a stock, soft-top MX-5. Insane.
The MX-5 RF-based Kuro concept, meanwhile, was teased in a semi-matte "concept color" called Kuro, which in English means charcoal. It runs on 17-inch RAYS forged wheels, 215/45 R17 BF Goodrich Rival G-Force tires and features the adjustable suspension system featured in the Global MX-5 Cup car. Not much else to look into just yet, but we're really digging this concept's simple, dark vibe.
Both vehicles are the handiwork of Mazda Design Americas and have been dubbed by the brand as a display of the company's premium side and performance heritage. For us though, the two concepts are just another of the many reasons to look forward to SEMA when it hits Las Vegas, Nevada in early November.
ADVERTISEMENT - CONTINUE READING BELOW ↓
Recommended Videos
Simple, sleek and lightweight--Mazda took a similar route at last year's show with its MX-5 Spyder and the aforementioned Speedster. Will the company's SEMA 2016 entries stand out? We'll find out in a little over a week.