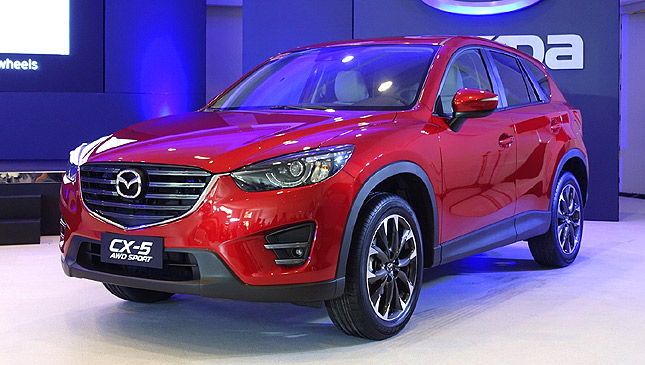 They say three's a crowd. But that's not true in the case of Mazda Philippines' trio of face-lifted 2016 CX-5 variants: the CX-5 Sport, the CX-5 Pro and the new CX-5 Maxx. These three new CX-5 editions were launched today by the distributor in Makati.
The 2.5L CX-5 Sport, the most premium of the three, is all-wheel-drive and features the latest tech Mazda has to offer. Among the most notable added features to the revised CX-5 Sport are a new electronic parking brake (replacing the traditional handbrake), MZD connect, drive selection, adaptive LED headlamps, power seats, and a lane-keep assist system. The Sport will also be riding on all-new, sleek-looking 19-inch machine-finished wheels.
The 2.0L CX-5 Pro is front-wheel-drive and will feature the same tech and safety features as the Sport. The 2.0L CX-5 Maxx, meanwhile, will only be featuring the electronic parking brake and the drive selection among the new features unveiled by Mazda today, as it is targeted at buyers looking for an affordable CX-5 experience.
Exterior-wise, all three variants have undergone a few subtle changes, most notably to the front grille, which now has added depth, giving it a more three-dimensional appearance--with five prominent horizontal fins giving the updated grille a bolder look. The 2016 CX-5 will also be available in an all-new color, Sonic Silver.
Continue reading below ↓
Recommended Videos
The interior comes in pure white or black leather, or black cloth depending on which model you choose. All three variants feature new louvers, dials, instrument cluster, and a higher and wider console design, as well as leather dashboard inserts, wider door pockets and double-stitched leather trims.
The prices?
* CX-5 Sport - P1,695000 (only P10,000 increase from before)
* CX-5 Pro - P1,495,000 (exactly the same price as before)
* CX-5 - P1,345,000
Only time will tell whether the face-lifted CX-5 will be able to build on the success of the pre-makeover version, but if the prices and the new tech features are any indication, it's off to a pretty good start.
Photos by Tracy Carpena