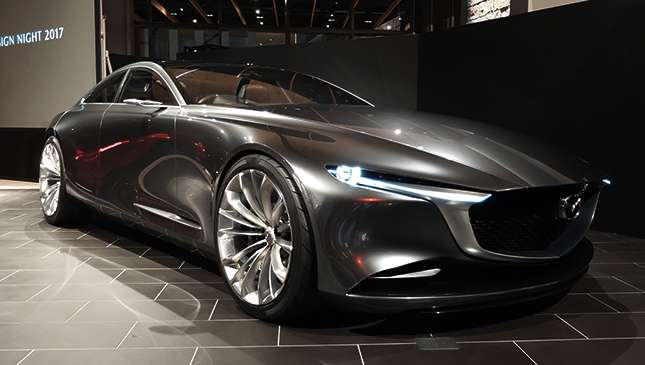 As far as concept cars go, Mazda has always had a penchant for making some of the sexiest and sleekest metal fantasies. The Japanese carmaker turned everyone's heads during the 2015 Tokyo Motor Show with the stunning RX-Vision Concept, and this year, it looks like the company's designers will achieve something to the same effect.
We got a special, sneak peek at the Mazda Vision Coupe last night during a special ceremony at one of Mazda's Tokyo showrooms. Organizers had originally planned a more extravagant event at the Tokyo National Museum the day prior, but a passing typhoon quickly erased those plans. Frankly though, it would have caught everyone's attention regardless of where Mazda unveiled it.
Continue reading below ↓
Recommended Videos
The first thing that struck us was the vehicle's front end. The headlights and grille design elements look very similar to the all-new Mazda CX-5 launched earlier this year. Could this be an indication of where the company's Kodo design language is headed?
Designers have also kept things relatively minimalist, choosing to limit the number of character lines in favor of focusing on 'flow.' There's a classic coupe silhouette, and the car's shapely proportions play wonderfully with the lighting. Mazda calls this a "less is more" aesthetic.
Essentially, the company's done away with any design elements that designers have deemed unnecessary—basically most of it. Drastic? Maybe. But for obvious reasons, we don't question the results.
The interior is something to behold as well, making use of what looks like very premium wood. Like the exterior, the spacious cabin also strips away anything that may contrast with the concept's minimalist nature. Sadly we were not permitted to touch the car, let alone step inside it.
Other things to note? Side mirrors have been replaced by slim, edgy cameras. There are four exhausts out back, and a rear windshield that stretches forward taking up half the roof. The elongated hood combined with the aggressive front end is downright menacing (in a classy sort of way).
Now prior to the unveiling, there was a bit of talk regarding whether this would be the future look of the next-generation Mazda 6. Obviously, it's too early to make any serious assumptions, and if rumors ring true, the production model will no doubt do away with much of what you see here (camera side mirrors, enormous rear window, wooden interior). But if the all-new 6 looks even just a bit similar to the Vision Coupe, then we may already have a winner.