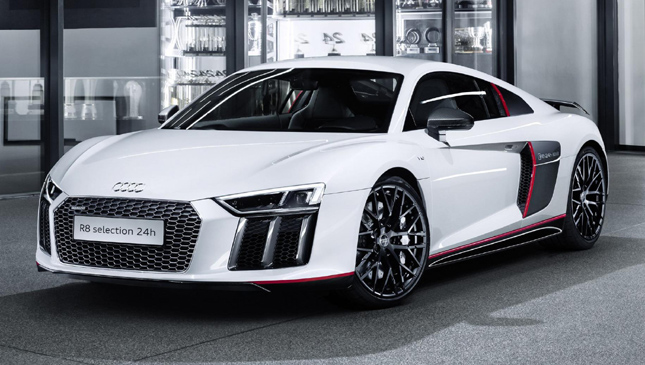 Last year, Audi won the Nurburgring 24 Hours in the very first attempt with the all-new R8 LMS. And with the 2016 edition of the event just around the corner, Audi has decided the time is right to celebrate those triumphs. How exactly? By taking 50% of the LMS's components and shoving them into an exclusive version of the company's most powerful road car. Yikes.
Say hello to the R8 V10 Plus Selection 24h, which will be available to customers around the globe in a limited edition-run spanning just two dozen units.
Housing a virtually identical engine to the, um, standard V10 Plus, this race-car tribute produces 602hp and will do 0-100kph in a sprightly 3.2 seconds on its way to a top speed of 330kph.
So performance remains the same, but naturally Audi has gone to town on the aesthetic side of things.
Combining "competition-inspired styling enhancements with an exceptional specification," the front spoiler, the wing mirrors, the hood lid, the rear wing and the diffuser are all made from gloss-finish carbon fiber.
The side blades get the same treatment as well, and feature a unique 'R8 24h' logo to ensure passersby know they haven't just been overtaken by any ordinary Audi.
While the tricolor exterior will also help perform the same task, the interior is much more focused on satisfying its occupants. Audi says the driver will benefit from a "monoposto arc" designed to make the R8 feel like a race car, and other touches like the illuminated door sills will bear the serial numbers from 1 to 24 to distinguish each car from the rest.
ADVERTISEMENT - CONTINUE READING BELOW ↓
They'll also give you futuristic-sounding "laser lighting," although don't expect to find weaponized turrets behind the headlights. There'll be no four-wheeled Star Wars reenactments just yet.
Set to make its public debut at the Nordschleife at the end of the month, there's no word yet on how much a Selection 24h will cost. Our guess is a lot.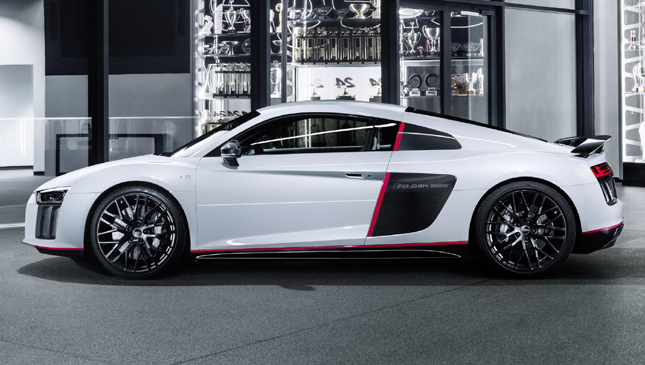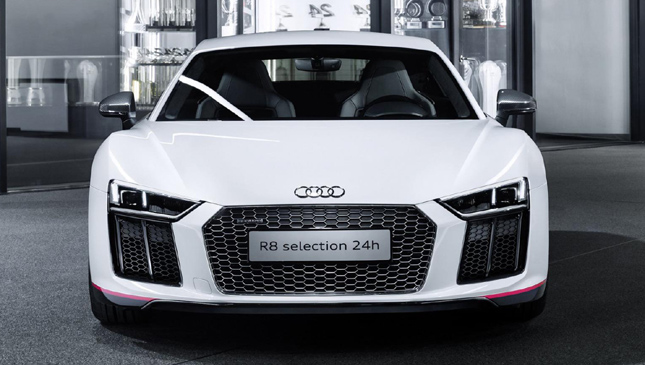 ADVERTISEMENT - CONTINUE READING BELOW ↓
Recommended Videos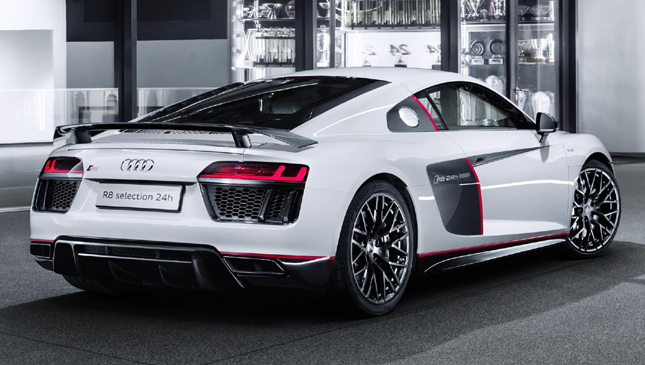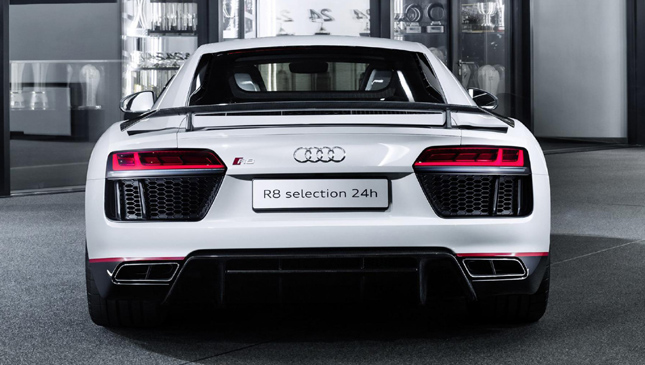 NOTE: This article first appeared on TopGear.com. Minor edits have been made.