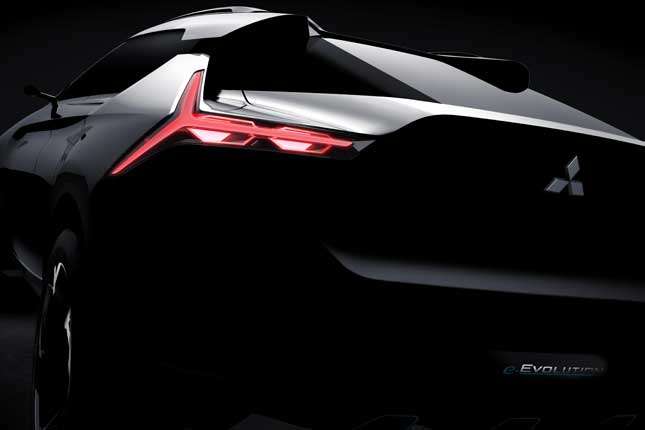 Boys and girls, it's our first look at an all-new Mitsubishi Evo. A sentence that, 10 years ago, would have had the internet comments section in an immediate frenzy.
There'd be debates about how much more power had been wrung out of a two-liter turbo engine, how much the rear wing had been extended by, and just how much fun we'd all have pretending to be rally drivers when we got a go in the thing. Either in real life or on a games console.
This time though, it's different. The seemingly endless battle in the '90s and '00s between fast Subaru Imprezas and Mitsubishi Evos, um, ended. You can still buy an STI-badged Subaru, but its spec sheet has been stagnant for years. Fast Lancers, meanwhile, are dead and buried.
Continue reading below ↓
Recommended Videos
The e-Evolution Concept, as Mitsubishi has named the car teased above, will be at next month's Tokyo Motor Show. We're told it mates Mitsubishi's latest four-wheel-drive electric setup with artificial intelligence "under a low-slung, highly aerodynamic SUV Coupé shape."
Which leads us to conclude it's a sportier, sexier, cleverer version of the really quite popular Mitsubishi Outlander PHEV, a car that launched as a pioneer but now finds itself increasingly surrounded by plug-in SUV rivals.
Will it be a proper performance car, though? Well, you could argue those old Evos were very good at channeling new tech, and as highly turbocharged performance cars, were well ahead of the curve. Perhaps the e-Evolution's ethos isn't a million miles away.
But does it have to be an SUV? "The e-Evolution Concept signals the start of an exciting new era that will see long-term growth and sustainable development for the brand," says Mitsubishi. To achieve those things, it kinda has to be a crossover of some description. If that really must be the case, let's cross all our fingers and toes it's miraculously inspired by the Mitsubishi Pajero Evo.
NOTE: This article first appeared on TopGear.com. Minor edits have been made.