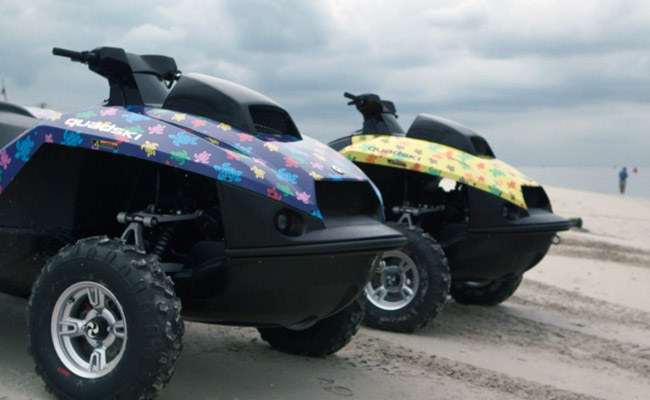 Last week, we reported that the 2014 version of the Neiman Marcus Christmas catalog includes a special Maserati Ghibli S Q4 that's limited to 100 units and retails for $95,000 each.
Now, the catalog also has a "Fantasy Gifts" category, which the retailer describes as "unique, incomparable, one-of-a-kind experiences." For this year, these "experiences" range from owning a silk floral peacock sculpture for $25,000, to creating your own fragrance with the help of the House of Creed for $475,000. As we browsed through the items listed, we chanced upon the his and hers Gibbs Quadski that has a turtle-print pattern from French swimwear manufacturer Vilebrequin.
The Quadski is a four-wheel amphibian, functioning as a quad bike on land and a personal watercraft on water, with a top speed of just over 70kph. The vehicle was even featured on the Top Gear TV show with Jeremy Clarkson behind the handlebar. Our online associate editor Dinzo Tabamo also wrote about it in June, saying that it was being sold locally for P2.8 million by Networx Jetsports.
Anyway, what caught our attention in the catalog listing was that the Quadski was being sold for $50,000 each (over P2.24 million), which is only a few thousand dollars more from its dealers' prices, which range from $38,000 to $43,000. And to think Neiman Marcus's price includes a trip to the Gibbs test facility in Florida where owners can experience maneuvering their vehicle on a specially built course, and a GoPro camera.
Continue reading below ↓
Recommended Videos
If you want to see the Top Gear TV segment featuring the Gibbs Quadski, check out the video below.
If you're viewing this on a mobile device and can't see the video, please click here.