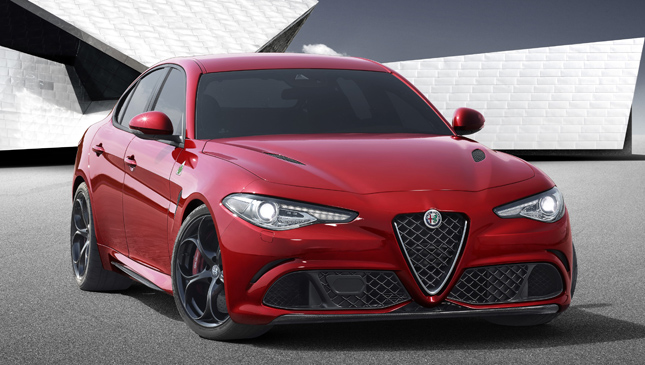 Some of you might recall Alfa Romeo's brief presence in our market with models like the rather bland 155 and the odd GTV, but it had always churned out way cooler cars before that. Alfa has a long rich history in motorsports, and it was known for building successful sports sedans, coupes and convertibles that carried Alfa's racing DNA.
To the disappointment of many of the Italian brand's fans, Alfa Romeo ended production of its last mass-produced RWD sports sedan in the early '90s. Alfa survives mostly with mass-produced models built on FWD Fiat platforms, but that will soon change.
The all-new Giulia sports sedan--Alfa Romeo's gift to itself on its 105th birthday--has just been unveiled in its range-topping, high-performance Quadrifoglio guise. This is its first RWD sports sedan in over two decades. Aimed directly at the German premium sports sedans, the new Giulia was engineered and styled to challenge the best, and boy did they come up with a stunning car.
The new Giulia incorporates evolutionary Alfa styling cues like its triangular shield-like grille and slim headlights up front, prominent character line on the sides, and slim horizontal taillights. Step inside and a driver-oriented interior awaits you. It features a flowing dashboard and a small, sporty steering wheel with nicely grouped controls. In true Italian fashion, its cabin features premium materials like carbon fiber, wood and fabric for that handcrafted feel.
Continue reading below ↓
Recommended Videos
To prove that it's not all show, the Giulia was engineered to optimize performance, ride, handling, braking and steering precision. It has a perfectly balanced 50:50 weight distribution, and features carbon fiber and aluminum for some of its components and body panels. It also incorporates a double-wishbone suspension with a "semi-virtual steering axis" up front, and a multilink layout at the rear. It has a double-clutch torque vectoring system in its rear differential, as well as an integrated brake system. All four corners feature carbon-ceramic disc brakes.
The range-topping Giulia Quadrifoglio boasts a Ferrari-tuned 510hp turbocharged 3.0-liter six-cylinder engine under its hood. This powerhouse of an engine features an electronically controlled cylinder-deactivation system to improve fuel economy. Thanks to its amazing power-to-weight ratio of 3kg/hp, this Italian sports sedan can accelerate from 0 to 100kph in an astonishing 3.9 seconds. Expect other engine options and AWD to be offered in the Giulia range.
Don't you wish Alfa Romeo was back on our shores?