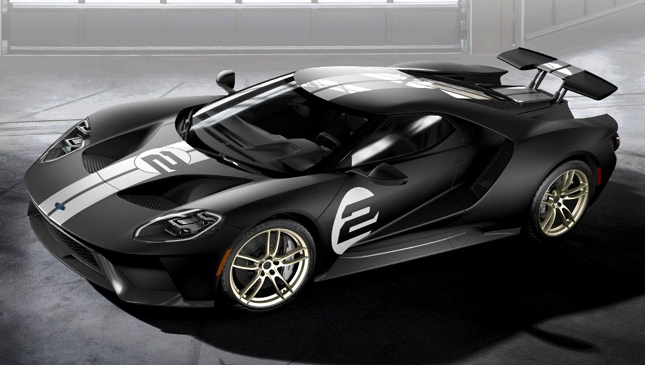 As far as supercars go, the upcoming all-new Ford GT is arguably one of the most awaited models out there. We say this based on the 6,506 applications placed via the car's microsite all in the span of one month.
Need more proof? The GT has already spawned a special edition even before it hits showrooms later this year. The American carmaker has announced that it will be offering a GT '66 Heritage Edition to honor the car's spectacular 1-2-3 sweep, where a GT40 Mark II was driven by Bruce McLaren and Chris Amon at Le Mans in 1966.
The unique model is made extra special with exposed carbon fiber trim pieces, Frozen White #2 hood and door graphics, and satin gold-colored 20-inch forged alloy wheels with black lug nuts. Each of these bits complements the gloss or matte Shadow Black exterior color with matching silver stripes.
The racy cabin also gets the Le Mans Heritage treatment via ebony leather upholstery around the pillars, the headliner and the instrument panel. Meanwhile, the headrests and the steering wheel feature the GT logo, and gold appliques can be seen on the shift paddles, the seat X-braces and the instrument cluster. The leather-wrapped tiller is also similar to the one found in the 1966 GT40 as well. Rounding things out are the #2 graphic placed on the car's interior, matte carbon touches and, of course, a serial number plate.
ADVERTISEMENT - CONTINUE READING BELOW ↓
While exact numbers haven't been revealed, Ford did specify that it will only be offering the GT '66 Heritage Edition in limited quantities. And with the standard car having only 500 examples scheduled to be built, we're guessing that this one will be even rarer.
ADVERTISEMENT - CONTINUE READING BELOW ↓
ADVERTISEMENT - CONTINUE READING BELOW ↓