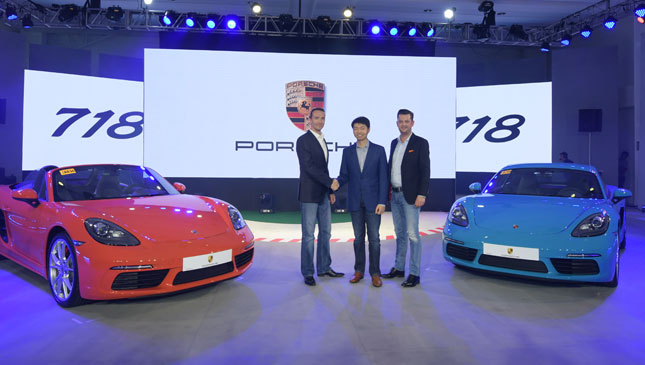 Following the footsteps of the smaller displacement turbocharged 911 Carrera range are the new Boxster and Cayman—now called the 718 Boxster and 718 Cayman. PGA Cars, the authorized distributor of Porsche in the country, unveiled the new duo at Whitespace Manila event venue in Makati City, with a race-inspired atmosphere to emphasize the 718's roots. The cars were presented by Porsche Asia Pacific managing director Martin Limpert and sales director Alexander Schuchert.
The 718 is a mid-engine race car developed by the sports car company in the 1950s. Back then, it had a 1.5-liter 4-cylinder boxer mill. It made its debut at Le Mans in 1957, and it finished first in class a year later. Apart from another Le Mans victory in 1961, the 718 won the Targa Florio three times, the European Hill Climb Championship in 1958 and 1959, as well as bagging victory at the 12 Hours of Sebring in 1960. 
The new 718 models pay tribute to the original with new flat-4 engines. The 718 Boxster and 718 Cayman are both powered by a 2.0-liter turbocharged engine, with an output of 300hp and 380Nm. The S variants, meanwhile, come with a 2.5-liter turbo with variable turbine geometry—technology found exclusively on the 911 Turbo. It delivers 350hp and 420Nm. Both Porsches have the same output for the first time. The previous naturally-aspirated Boxster in base trim has 39hp and 100Nm less, the S 39hp and 60Nm; the base Cayman 29hp and 90Nm down, the S 29hp and 50Nm. The chassis has been improved for better handling.
Differentiating the look from the predecessors are bi-xenon headlights with LED daytime running lights (LED headlights with four-point daytime running lights are an option), larger air intakes and inlets, a redesigned accent strip in gloss black with a new execution of the Porsche badge, and three-dimensional LED taillights with four-point brake lights.
The 718 models come with the 918-derived Sport Design steering wheel, with the Sport Response Button as optional. An essential feature that comes standard is the Porsche Communication Management with a 7-inch touchscreen.
Here are the prices:
* 718 Boxster - P5,750,000
* 718 Boxster S - P7,300,000
* 718 Cayman - P5,950,000
* 718 Cayman S - P7,600,000