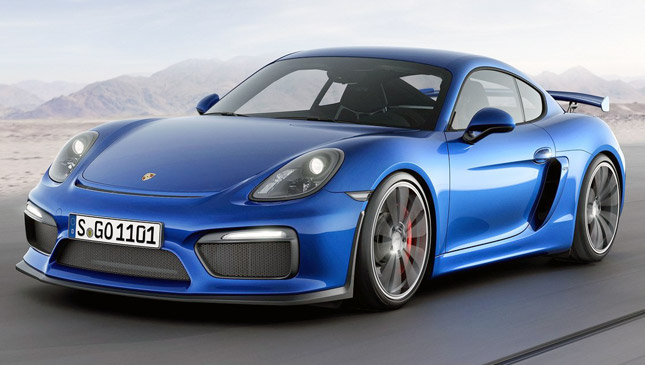 For the longest time, Porsche models were segregated into three basic categories. The 911 (and its derivatives) and the limited editions (Carrera GT, 918) were the track cars; the Boxster and the Cayman were the cruisers; and the four-door models (Panamera, Cayenne, Macan) were for soccer moms everyday needs.
But the Germans felt the mid-engine Cayman was ready to be upgraded into a serious driving machine. Thus, Porsche's latest model has been inducted into the GT high-performance club. Meet the Cayman GT4, a model even more hardcore than the Cayman GTS introduced last year. The Cayman GT4 shares parts with--and is more in the spirit of--the revered 911 GT3.
Porsche claims its latest creation can lap the Nurburgring Nordschleife in a mere seven minutes and 40 seconds. That puts it in the same league--as far as 'Ring times are concerned--as the Lexus LFA and the Lamborghini Gallardo Superleggera. But even though the engine, the chassis and the brakes have been configured for heightened performance, the versatility and everyday usability of the Cayman have been retained.
Powering the Cayman GT4 is a 3.8-liter mid-mounted flat-six engine that generates 385hp at 7,400rpm. This is based on the powerplant of the 911 Carrera S. A standard six-speed manual gearbox sends all those horses to the wheels (a dual-clutch transmission, or PDK, is not available). The result is zero to 100kph in 4.4 seconds, and a maximum speed of 295kph. The body is also 30mm lower than a typical Cayman.
Continue reading below ↓
Recommended Videos
A few subtle tweaks distinguish the GT4 from the regular versions. Three inlet openings in the nose, and a large fixed rear wing are part of an aerodynamic package. More than looking good, these add-ons reduce lift and generate downforce for the car.
For those who want even more sportiness, available options are Porsche Ceramic Composite Brakes, shell-backed seats made of carbon-fiber reinforced plastic, a Sport Chrono Package, and a Club Sport Package.
In the cabin, leather and Alcantara have been used to create a comfortable yet race-inspired interior, with a GT4 sports steering wheel that guarantees ideal control and direct steering feedback.
Porsche says four out five drivers of its GT models take their cars to the track. The Cayman GT4 looks more than ready to live up to that statistic.