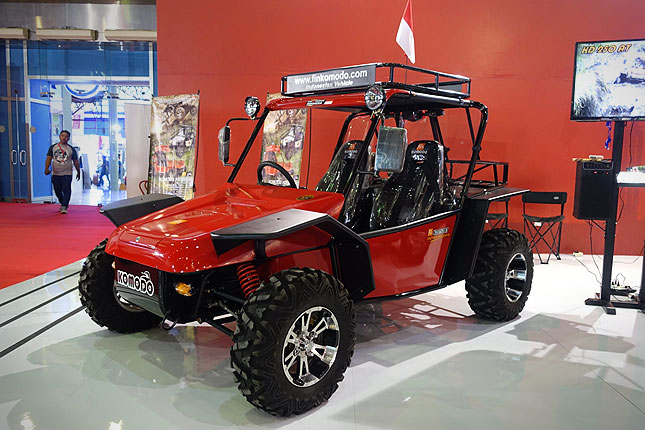 Aptly named after an Indonesian endemic lizard so large it's also called a dragon, this vehicle proudly wore its country's flag at this year's Indonesia International Motor Show. Like the popular reptile found on some of the archipelago's islands, this buggy is set to put Indonesia on the automotive map as it is one of the country's first national cars.
Meet the FIN Komodo, a 100% Indonesian-made vehicle. The display units were the KD 250 AT and the rescue-ops-ready Medivac KD 250 AT. They were presented by Ir. H. Ibnu Susilo, the president director of the vehicle's manufacturer, PT FIN Komodo Teknologi.
"We decided to create this type of vehicle for two reasons," Susilo told TopGear.com.ph. "For one, foreign brands from Japan and the United States have saturated the consumer market of cars. Second, only 4.7% of our country's expansive land has the road infrastructure."
The two-seater vehicle is powered by a 250cc, four-stroke gasoline engine mated to a CVT, and is meant to conquer any terrain in the country's 1,900,000sq-km land area.
What you see in the photos is the fourth-generation, mass-production version of the Komodo, which was patented in 2011. R&D on the vehicle started in 2005. Three years later, the company built its first-generation all-terrain vehicle. The West Java-based company enhanced it and came up with two more iterations of the buggy. It later built the Medivac version, which has a provision for a stretcher, and thus can be used for rescue operations.
Continue reading below ↓
Recommended Videos
Today, the Komodo sports a tubular frame, and packs 14hp and 17.7Nm. PT FIN (abbreviation for Formula Indonesia) Komodo gave the buggy a 300mm ground clearance so it can tackle uneven terrain. And because this rugged ride should be able to play in the mud without the driver worrying about losing control, it is equipped with front and rear disc brakes. For better road-holding, the Indonesian ATV comes with front and rear fully independent double wishbone suspension.
Measuring 2,650mm long and 1,460mm tall, the Komodo is shorter than a Toyota Wigo. It is, however, wider than the mini hatchback, having a width of 1,750mm. The 320kg buggy sips a liter of gasoline for every 20km, and can store 21L of fuel in its tank.
"We only make a right-hand-drive version of the car--no left-hand-drive," Susilo said. "And we do not export them. We only sell them here, but some of our buyers have brought the vehicle to Malaysia and even Africa."
Sales figures are not big, according to the executive. But with 120 units sold per year, this Indonesian company may be selling more units than some brands in the Philippines.
In case you're wondering how much the Komodo is, the recreational version costs less than the Suzuki Alto in our market at $7,000 (about P326,600), while the Medivac KD 250 AT has a price tag of $10,000 (about P466,580).
Let's hope our very own Salamander amphibious tricycle, which is still a concept vehicle at this point, will follow in the Komodo's footsteps.
Photos by Tracy Carpena