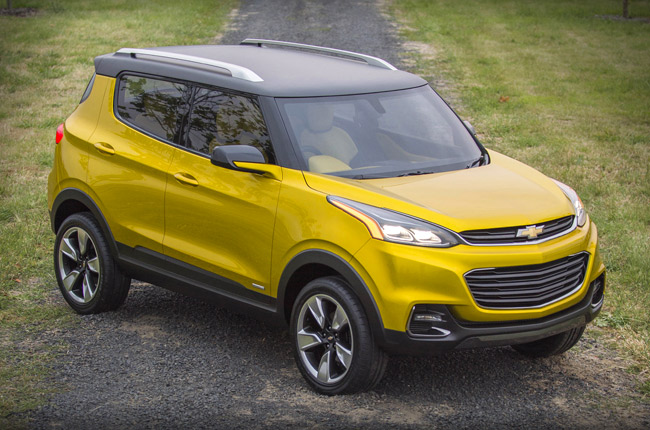 You may probably remember that General Motors has a bunch of low-cost cars in different markets like Shanghai GM's Chevrolet Sail and GM Brazil's Celta hatch and Classic sedan, which are based on the '90s-era Corsa B's platform. The American company is now working on a new platform to underpin the replacement of its dated low-cost cars and also serve as the platform of its upcoming "affordable" baby crossover.
According to The Economic Times, General Motors will develop an all-new, low-cost platform under the project name "Amber" for the Indian market and other emerging markets like Brazil, Thailand, Russia and Mexico. This platform will be used for a sedan, a hatchback and a crossover SUV. Insider information says that among the three planned vehicles, the crossover will be the priority in the Indian market.
The crossover will be based on the Indian-designed Adra Concept, which was previewed at the New Delhi Auto Expo earlier this year. It will be slightly smaller than the Chevrolet Trax and will directly target the popular Ford EcoSport B-segment crossover, which has been hugely successful in India. Although the Adra Concept is a bit over 4m long, its production version could be shortened to fall within India's sub-4m segment to take advantage of the lower excise tax.
Continue reading below ↓
Recommended Videos
The platform will be designed in Europe, but engineering will be done in Brazil since General Motors do Brasil will be leading the project. With GM CEO Mary Barra closely monitoring the project, it just shows how important the platform and emerging markets are for GM. Of course, since the project is at its infancy, it will take around four years before the first vehicle on this new platform will roll out.
In March 2014, GM submitted an application to join Phase 2 of Thailand's Eco Car Program. It's highly likely that the car models to be built under the Amber platform could be adapted for this program. If things go according to plan, there's a possibility that this future Thai-built, low-cost Chevy could be exported to Southeast Asia.
So, what does this mean for the Philippine market? GM's affordable baby crossover could someday arrive in the country to challenge the EcoSport. There's also a chance the tiny Spark could be replaced by a roomier, low-cost model made in Thailand. But Chevrolet fans, you'll have to wait a couple more years for these vehicles to materialize.