There wasn't a lot to go by with the invite to the event, but the revamped Mazda 6 is here at last. Here are the variants: the Sedan 2.5-liter Skyactiv-Gasoline Turbo; the Sedan 2.2-liter Skyactiv-Diesel; and the Sports Wagon 2.5-liter Skyactiv-Gasoline.
Folks who were hoping for the Skyactiv X engine will have to wait a little bit longer, it seems, but having the turbocharged engine available should be exciting enough. According to the press release, the 6's "passion and soul is highlighted with the new engine under its hood." The 2.5-liter Skyactiv-Gasoline engine now delivers 231hp on regular unleaded fuel and is able to produce 420Nm of torque at an early 2,000 rpm." An 11-speaker Bose sound system comes standard, as does Apple CarPlay in all variants. If it were up to us, we would choose the wagon variant in a heartbeat. We have a soft spot for those.
Here are the variants and prices of the new Mazda 6:
Mazda 6 Sedan Skyactiv Gasoline Turbo: P2,250,000.
Mazda 6 Sedan Skyactiv Diesel: P2,250,000.
Mazda 6 Sports Wagon Skyactiv Gasoline: P1,995,000.
In a sea of subcompact sedans and SUVs, it's great to see proper midsize executive sedans (and a wagon!)  being offered in the local market. The Mazda 6, throughout its various iterations, has always been a longtime favorite of the Top Gear PH staff, too. Without fail, this model has satisfied the driving enthusiasts in the team. It looks great as well.
Are you looking forward to getting behind the wheel of the Mazda 6?
ADVERTISEMENT - CONTINUE READING BELOW ↓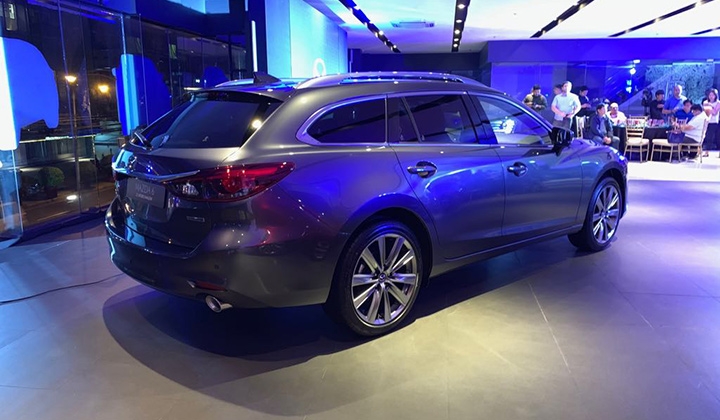 ADVERTISEMENT - CONTINUE READING BELOW ↓
Recommended Videos