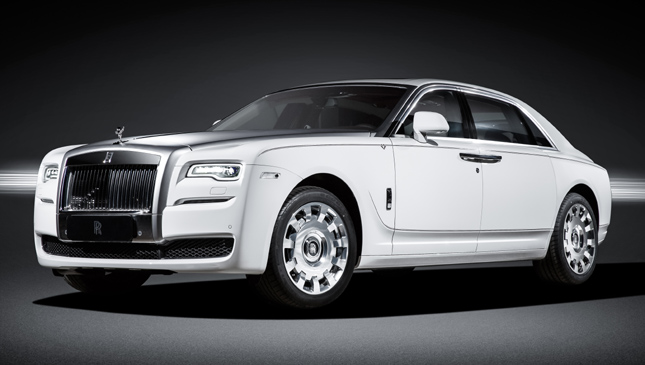 There has always been a certain air of timelessness about Rolls-Royce automobiles. The Silver Shadow from the 1980s, for instance, still looks stunning even though it is roughly three decades old. Maybe it's the design, or the way these cars are built, which is the traditional way.
Whatever the reason, Rolls-Royce is giving the world another reason to cherish its offerings. The latest model they're bringing out is the Rolls-Royce Ghost Eternal Love Collection. Built specifically for the Chinese market, this is the British luxury marque's Chinese New Year gift to the country. And being a Rolls-Royce, this car is all about the details--the exquisite details, mind you.
To depict the theme, the car's underlying message is that of the love between two swans. The Chinese have this belief that these "love birds" have a romance that is undying. In fact, it is even believed that one swan will take its own life once its partner passes on. Rolls-Royce pictures this in details like the heart-shaped image of two swans on the leather-clad seatbacks. In true Rolls-Royce fashion, these embellishments are handcrafted for that truly special and personalized touch.
The car's paint finish is done in English White and Silver Satin. Elegant flanks are complemented by a seashell-colored interior with Hotspur Red accents on the seats, the roof and the headrests. Finally, little details like the matching Tudor oak-colored clock, a two-tone steering wheel, and treadplates bearing the etched words "Love is Eternity" make this car very unique.
Continue reading below ↓
Recommended Videos
Powering the Ghost Eternal Love is the legendary 6.6-liter twin-turbo V12 motor, mated to an eight-speed ZF gearbox. The sophisticated combo is matched perfectly by stunning 20-inch alloy wheels that help give the car an effortless cruising and driving experience. And of course, no Rolls-Royce would be complete without the Spirit of Ecstasy, which is thought to have been inspired by the love between John Douglas-Scott-Montagu and Eleanor Thornton (said to be the model in the emblem).
The new Rolls-Royce Ghost Eternal Love Collection is set for release in China. With the ultra-exclusive run of just 16 units, this model is extremely rare. This gives it a true aura of exclusivity to make anyone lucky enough to own an example cherish it for eternity.