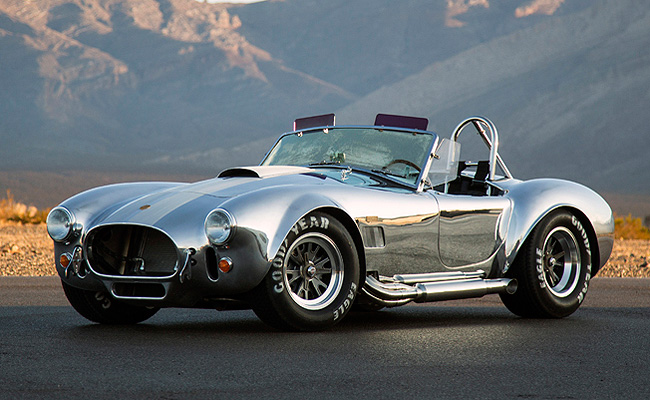 Shelby American is celebrating the 50th anniversary of the production of its "big-block" 7.0-liter Cobra by creating a component vehicle that's limited to just 50 examples.
Production of the 7.0-liter Cobras began in January 1, 1965, "specifically to conquer all other sports cars, both American-made and European." Compared to the previous 4.7-liter Cobras, the big-block models had an all-new coil-spring independent suspension, larger passenger compartment, upgraded brakes, wider track, fatter tires, and of course, the big-block Ford engine. In its first year of production, the larger-displacement Cobras captured the Sport Car Club of America's "A Production" championship.
If you're planning to buy one of the 50 cars, you might like to know that the car won't come with a drivetrain, although Shelby American claims that it is currently developing an optional engine package. Instead, each car is built to order and is delivered as a rolling chassis than can be finished either by the customer or by an authorized dealer, and it "retains everything from the authentic style suspension to the graceful body lines"--but upgraded to modern standards like brake discs and a stronger frame.
A 23-gallon racing-style fuel tank, powder-coated frame, racing brakes and custom gauges supposedly come as standard with the car. The 50th Anniversary Edition models also have special badges on both the exterior and the interior, while premium materials are used on the seats, carpets and dashboard.
Continue reading below ↓
Recommended Videos
"The big-block Shelby Cobra changed the way the world viewed American manufacturers when Carroll Shelby introduced it in January 1965," said Shelby American chief executive Joe Conway. "While the small-block cars were successful, the all-new FE-powered Cobra took everything to the extreme. Far more powerful and sophisticated, the big-block Cobra represented the bold American spirit. Shelby American's goal was to create the world's first hypercar, and the Cobra lived up to its potential."
The 50th-anniversary big-block Shelby Cobras are available at $119,995 (over P5.4 million) for a fiberglass-bodied version, or $179,995 (over P8.1 million) for the aluminum-bodied one.