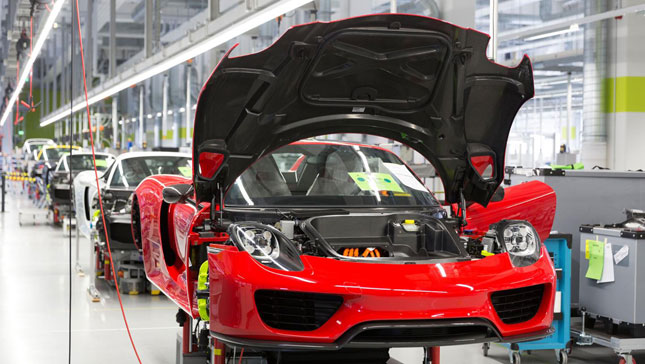 Back in 2010, we were all drooling over the Porsche 918 Spyder concept unveiled in Geneva, and we couldn't wait for the German carmaker to build this cool hybrid supercar. Fast-forward to September 2013, and Porsche pulled the wraps off the production version. In the end, the 918 Spyder was worth the three-year wait. It pretty much stayed true to the concept, to the delight of enthusiasts. But as the saying goes, all good things must come to an end.
On June 19, the very last 918 Spyder--unit number 918 (but of course)--rolled off the assembly line in Stuttgart-Zuffenhausen, after a short 21-month production run. This hybrid supercar has earned its place alongside other Porsche greats like the 904 GTS, the 959, the 911 GT1, and the Carrera GT.
The 918 Spyder's technology is light years ahead of its predecessor, the aforementioned Carrera GT. It features operating modes that range from its default pure electric E-Power mode, all the way up to the all-out maximum performance Race Hybrid mode for track use. The latter features a "Hot Lap" function.
Porsche used its knowledge in hybrids to create the characteristic maps and algorithms that manage the 918 Spyder's race car-derived V8 internal-combustion engine and electric motors. Its advanced thermal management system consists of five separate cooling loops, and an innovative air-and-water hybrid cooling system for its rear electric motor. Efficiency and driving range are improved thanks to the car's intelligent kinetic recovery system that can efficiently convert kinetic energy into electrical energy better than other hybrids.
Continue reading below ↓
Recommended Videos
Innovation didn't stop with the car--it also extended to the manufacturing and assembly process. The entire 918 production line uses wireless power tools, for example. One such advancement is a battery-powered screwdriver that is connected to a database via Bluetooth; aside from documenting the use of the tool, this ensures that the correct torque is applied each time.
Some of you might wonder about the investment Porsche made in R&D, not only for the car but also for its manufacturing and assembly process. All this effort for a limited run of only 918 units? Well, the good news is that it will not go to waste. As we bid the awesome 918 Spyder farewell, some of its advanced tech, as well as its innovative manufacturing process, will eventually trickle down to future Porsche models.
Now that the 918 Spyder has ended its production run, our wish is to actually see one on Philippine roads.